NFL-regulation hash marks embedded in the synthetic turf inside The Star in Frisco's indoor football stadium are colored a dark gray, bordering on black — the product of atypical negotiations during the year-old facility's design phase.
As one component of the Cowboys' $1.5 billion, 91-acre headquarters campus located 30 miles due north of Dallas, the 12,000-seat stadium represents a partnership between Jerry Jones' empire and four local entities — most notably the Frisco Independent School District, whose eight high schools take turns hosting games there on Thursday and Friday nights. For all other intents and purposes during the fall, Ford Center — as the venue is officially known — serves as the Cowboys' indoor practice facility. The unmistakable blue midfield star and end zones emphasize that fact.

But the hash marks tell a different story.
With Cowboys executives on one side of the table and Frisco ISD athletics administrators on the other ("Now that's a cool meeting," says Frisco assistant city manager Ron Patterson), one of the NFL's most storied franchises acquiesced to the field being marked primarily for the facility's game-day commitments, with white turf inlays specified for the wider high school hash mark dimensions.
"I know that seems like a minor detail, but it's very important," Patterson says. "It just goes to show, in my opinion, how well the Cowboys organization and the school organization and the city can all work together."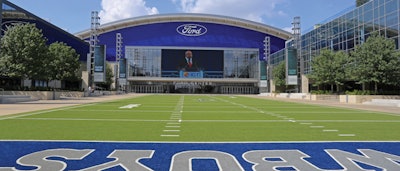 Community connections
The sharing of professional practice facilities with their host communities is a concept that seems to be coming of age. Last year, Sports Business Journal reported that new practice facilities are helping NBA franchises redefine destination districts in Sacramento, Milwaukee, Toronto and Camden, N.J. (for the Philadelphia 76ers), and that public use of the venues is part of the bargain of having municipalities fund their construction. According to their 20-year lease at BioSteel Centre, the Toronto Raptors must open the facility's doors to city-run recreation programming a minimum of 1,200 hours per year.
Still, one wonders why the Cowboys, the most valuable franchise in all of professional sports at $4.2 billion, would feel the need to share facilities with anyone. Turns out, it wasn't strictly a charitable decision. A Frisco-based real estate firm helped connect the dots between Cowboys owner Jones and would-be stakeholders within the community. In the end, the Frisco ISD put up $30 million, which it had already earmarked for construction of a third football stadium in the district; the City of Frisco added another $30 million; the Frisco Community Development Corporation pitched in $25 million; and the Frisco Economic Development Corporation was good for $5 million.
"We started thinking, okay, we already know we need a stadium. We also know that we need more space for graduations. We need more space for conventions. We need more space for concerts. I mean, demand is huge," says Patterson, who adds that pooling resources to meet a variety of community needs was "pretty much a no-brainer."
"We knew we would end up with a facility better than if any of us were alone. So not only did we get a football facility, but we got an indoor, 12,000-seat facility, whereas our $30 million was not going to be able to touch that."
Ford Center is owned by the City of Frisco, which then leases it to the Cowboys. Moreover, the Cowboys provide the type of facility management expertise that's outside the city's comfort zone, and neither the city nor the district assume any financial responsibility for ongoing maintenance and operations, which Patterson estimates at six figures annually. It's a formula that has served Frisco well with similar projects, including Toyota Stadium, the 22,000-seat home of Major League Soccer's FC Dallas that doubles as another Frisco ISD football venue. Says Patterson, "We feel very comfortable developing and building structures like this, but it's always good to know what you don't do well, too. And we don't run them very well. That's why we don't do it."
School officials are at least present at Ford Center to handle the type of supervisory duties that any high school administrators would on game nights, but Cowboys personnel are there to turn off the lights and lock the doors when it's time to go home.
Physical space within the building itself is likewise clearly defined. The stadium is divided lengthwise, with the City of Frisco and Frisco ISD occupying locker rooms and offices along one side and the Cowboys operations housed along the other. "If a high school is on the field for whatever purpose — band, whatever — the Cowboys can still do their thing. They're in their offices. The coaches are working," Patterson says. "Vice versa, when the Cowboys are on the field, then the high school folks and the city can be on their side of the venue. We can both be in the venue at the same time and not step on each other."
Yet, there's a sense of ownership. City and ISD logos grace the eastside entrance used on game nights, student artwork adorns interior walls, and raised-letter logos of all eight schools along a hallway visually reinforce residency. "Students feel very much like 'This is our home. This is where we play,' " Patterson says.
It's also where Frisco ISD students learn. "We don't call it a sports venue; we call it an educational venue," says Patterson, who points to the state-of-the-art broadcast and video equipment on which students from the district's Career and Technology Education Center gain experience during every game. Hands-on lessons in sports management, development and hospitality are also a plus. "All of those kinds of things are going on in that venue besides football, soccer and band," Patterson says.

Star-gazers
The playing field represents the only area truly shared by the various athletes utilizing Ford Center, with the Cowboys running morning and afternoon practices and Frisco ISD staging games at night. "We deliberately designed it so there would be that separation but still have connection on the field," says Scott Armstrong, a senior associate at Gensler, the stadium's architect.
And it's not as though the Cowboys are overly protective of their turf. According to Armstrong, Jones personally delighted in the idea of paths crossing — a chance sighting of Dak Prescott or Jason Witten as they surrender the field to high school student-athletes and their pregame warm-up. "They really wanted to have that connection to high school sports and to youth sports, in general," Armstrong says of the Cowboys, "as if saying, 'Hey, we're trying to be a little bit more personable, a little bit more engaged with the community.' For the ISD, you're attached to a world-class organization, and your kids get to be part of that environment and that kind of excitement and energy."
A sampling of the Ford Center's diverse schedule reveals an October concert by Bob Seger & The Silver Bullet Band (22,000 fans can be accommodated for such shows), a Geico Patriot Cup lacrosse event for collegiate men and women and high school boys and girls next February, and the Conference USA men's and women's basketball championships in March.
Designed wide enough to accommodate a regulation soccer pitch, Ford Center is the only domed high school stadium in Texas, where climate-control is a welcome luxury in August and throughout the fall. "It's a credit to the city, the ISD and the Cowboys organization for having the kind of vision to see past what has been done to what can be done," Armstrong says. "Traditionally, people don't think they can partner with an NFL team to do something like this. It really worked out great."
Other professional franchises are taking notice. "I think there are a lot of teams that are looking at this as a catalyst for what can be done," says Armstrong, who can see The Star from his Frisco residence. "I know for sure there are a lot of teams that have come through the facility, seen it and said, 'This is something we'd like to replicate in our own backyard.' "
Inside the Bruins' Hub of Practice Activity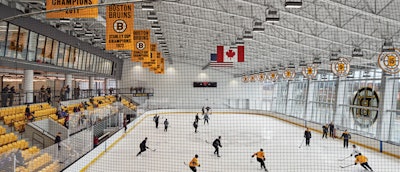 Professional sports teams that share practice facilities with the public represent a growing trend, but hockey teams have been doing it for years — and for good reason. Unlike a basketball gym, which can go dark at little cost when not in use, an ice arena only makes economic sense when open for all but a few hours of the day.
Warrior Ice Arena — which opened in September 2016 as part of Boston Landing, a 16-acre health and wellness campus that houses New Balance Athletics' world headquarters in Boston's Brighton neighborhood — serves as the new practice facility of the NHL's Bruins. The arena's schedule accommodates Bruins practice from roughly 10 a.m. to noon. Beyond that, the single ice sheet, open from the early morning hours to midnight or later, hosts youth, adult, high school and college hockey, as well as public open-skate sessions. Even in rink-rich Massachusetts, ice time is in high demand, according to facility manager Marissa Marwell, who handles Warrior Ice Arena's day-to-day operations on behalf of Rink Management Services.
The arena represents a big improvement over the Bruins' former practice facility in Wilmington, approximately 20 miles north of Boston, according to the new rink's general manager Jay Rourke. Warrior's ice-making technology is every bit as good as, if not better than, TD Garden's, Rourke contends, and similarities to the Bruins' game-day home don't end there.
"Everything is designed to replicate the Garden," says Rourke, a senior project manager for NB Development Group. "The ice is painted just like the Garden. The penalty boxes and players' benches are the same size and in the same location. The height of the glass is the same. The lighting here is 100 foot-candles, so it's designed to replicate the ceiling inside the arena. The players love it. It makes them feel that they're playing in a game situation. And then your average youth hockey player gets to come out here and skate. Men's league players find it very cool to just sit there and take a photo on the same 'B' that's at the Garden."
Witnessing the public attraction to the team and its new practice digs has been a highlight for Marwell, herself a lifelong Bruins fan. "The most rewarding part for me is seeing the kids who get to come watch the practices who may never get to a game. They may not be able to afford tickets or for a variety of reasons will never get to the Garden and sit at the glass and watch their idols play," Marwell says. "But at this arena, they're able to come in at no cost, park at little to no cost and get right up close to them, right up to the glass. And then after that they can attend one of our public skating sessions. That gives them the opportunity to skate on the same exact ice."
---
This article originally appeared in the November|December 2017 issue of Athletic Business with the title "Shared indoor stadium benefits Cowboys, school district." Athletic Business is a free magazine for professionals in the athletic, fitness and recreation industry. Click here to subscribe.