Whether picking berries or hunting game, humans have long wanted to know who found the most and who got the biggest. That said, we've come a long way since the days of notching mammoths on the cave wall. Scoreboards have gone from slates upon which points were tallied to technological marvels capable of displaying not only the score but also high-definition video replays in 100,000-seat stadiums. Here's a look at how scoreboards have evolved: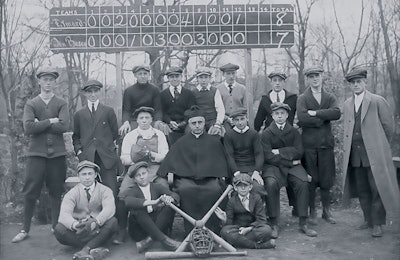 The standard chalk-and-slate scoreboard shows the Eymard Seminary baseball team's win over the Don Bosco team by a score of 8 to 7.
---
Humble beginnings in the Ivy Leagues
The advent of the country's first manual scoreboard that went beyond chalk and slate is placed somewhere around the late 1800s. Harvard University claims it unveiled the country's first football scoreboard on Thanksgiving Day in 1893. The board tallied the Crimson's win over Ivy League rival the University of Pennsylvania. Penn, meanwhile, claims its own Franklin Field — the oldest football stadium still in operation, according to the NCAA — as the site of the nation's first scoreboard reveal in 1895.
---
Monster nostalgia
"There are some ballparks that still like that nostalgic look of the manual board," says Randy Uehran, engineering manager at Daktronics. "They'll run them in addition to their digital displays. They actually have a guy inside who's monitoring the game and then they go up and change the number. It's totally manual." The lower portion of the Boston Red Sox' famed "Green Monster" is one such throwback still in operation.
---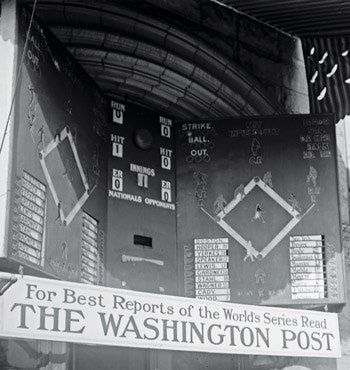 Scoreboard watching
It wasn't until the early 1900s that the electric scoreboard emerged. Sports teams, however, didn't immediately adopt the technology, which would have been primitive by today's standards. Nevertheless, fans took to watching the novel electric scoreboards outside newspaper offices and in movie theaters, where scores were telegraphed by observers at the game to the board operators.
---
Yankees boast efficiency
In 1950, the New York Yankees unveiled what was then one of the largest electric scoreboards to date. The team called it the world's most efficient scoreboard because it could be run by just one person. That said, the Yanks' state-of-the-art board likely wasn't easy to operate. According to The New York Times, the board featured 11,210 lamps that ran at 115,000 watts. It weighed 25 tons and included a master console with 4,860 buttons.
---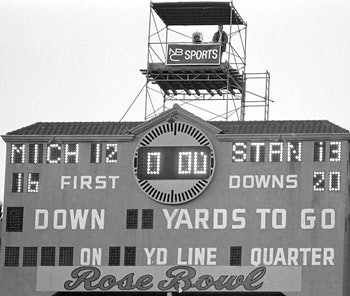 Incandescents hot
The basic scoreboard that used standard incandescent lightbulbs had a long run. They were simple boards like this Fair-Play unit at the Rose Bowl in Pasadena, Calif. This was one of Fair-Play's first units to feature digital timing, which was introduced in 1949.
---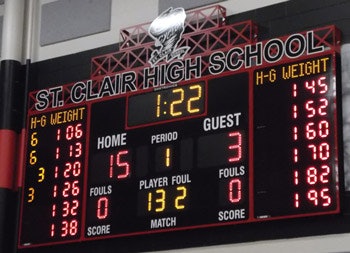 At long last LED
LED scoreboards like this one from Daktronics at St. Claire High School are now the standard. They are more energy efficient, with longer-lasting bulbs and a greater selection of colors.
---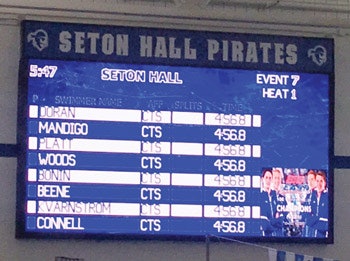 Going digital
High schools and smaller colleges were long priced out of the video display market, but that's changed significantly in recent years. The price difference between a conventional scoreboard and an LED video display is now negligible. More schools are opting for video displays, which offer a variety of revenue-generating advertising options, social media integration and multimedia effects, all of which increase fan and community engagement. The change allows for big-league tech at smaller venues. "We're actually putting a better product in high schools today than what was in the big stadiums just 10 years ago," says David Sutter, chief creative officer for ScoreVision.
---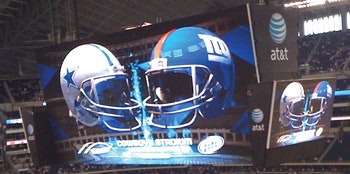 Dallas goes Texas big
In 2009, the Dallas Cowboys made the Guinness World Records with a four-sided, center-hung, high-definition video display at AT&T Stadium. Mitsubishi's Diamond Vision® LED technology was used for the two main sideline displays, which measure 72 feet high by 160 feet wide, and two Diamond Vision end-zone displays measuring 29 feet high by 51 feet wide. Weighing 600 tons, the screens are suspended 90 feet directly over the center of the playing surface and stretch from nearly one 20-yard line to the other.
---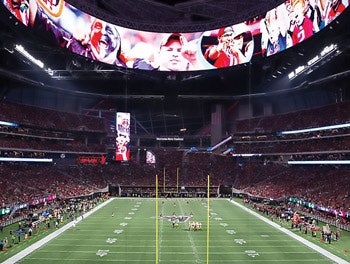 Over the top, state of the art
It's the length of three football fields and wrapped into an inner "halo" high above Mercedes-Benz Stadium in Atlanta. Engineered by Daktronics, the massive video display was installed in 600 pieces and measures 58 feet high by 1,075 feet in circumference, amounting to 61,900 square feet of display space. It is more than five stories high and nearly three times larger than the next-largest display in professional football.
---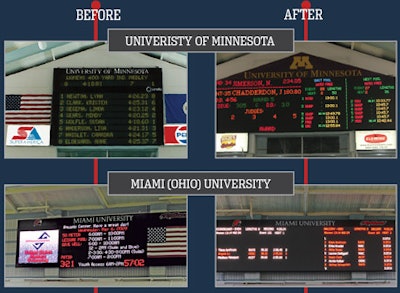 Before and after
Colorado Time Systems took the University of Minnesota's natatorium from a 9-by-12-foot, 35-millimeter pixel board to a 10-by-18-foot, 12-millimeter video display and a 10-by-19-foot, 23-millimeter board for scoring.
---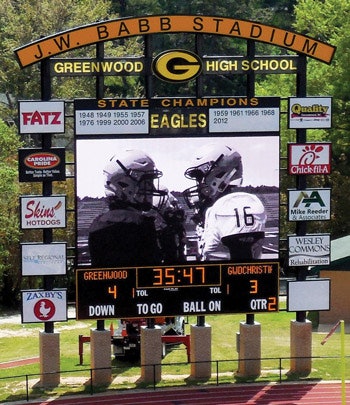 Scoring goes HD
Parent company Trans-Lux supplied this high-definition TL Vision display mounted above a Fair-Play fixed-digit LED board at Greenwood High School in Greenwood, S.C. It's a perfect example of high-tech scoring and multimedia at the prep level.
---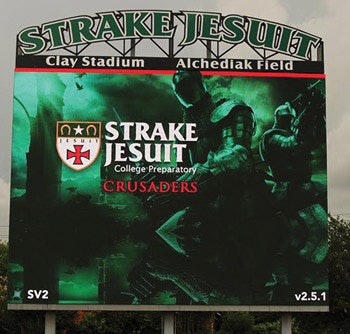 Big tech, small school
Strake Jesuit High School in Houston recently upgraded to a 34-foot-tall high-resolution video display that utilizes modern applications and a cloud-based infrastructure to serve up a variety of digital content.
---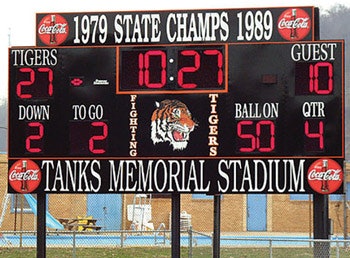 Fixed-digit still in play
While video displays are growing in popularity, there's still a robust market for fixed-digit LED boards like this one from Varsity Scoreboards at Tank Memorial Stadium in Ironton, Ohio.
---
This article originally appeared in the November|December 2017 issue of Athletic Business with the title "Keeping Score, Evelution of the scoreboard." Athletic Business is a free magazine for professionals in the athletic, fitness and recreation industry. Click here to subscribe.