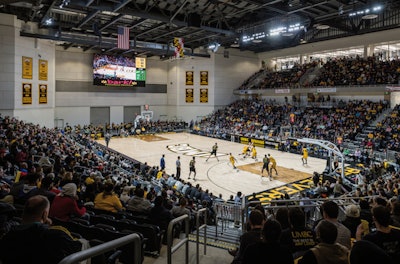 How we design and create collegiate athletic venues is an ever-moving target. New technology, evolving spectator expectations, and opportunities to enhance the student-athlete and fan experience are constantly pushing sports venues to new heights.
While large venues at the Division I collegiate programs often secure the most press and recognition, smaller venues and mid-level colleges are changing just as rapidly. Driven by some of the same realities, smaller venues face their own unique challenges and opportunities. Often, for these institutions, new collegiate athletic venues are pivotal to campus growth, recruitment, the expansion of athletics programs and/or community integration.
These venues, typically offering seating capacity between 3,000 and 6,000, deserve just as much attention as their larger peers. Here's a look at three ways mid-sized collegiate arenas are growing stronger for the future:
Offering premier amenities on a smaller scale
With more real estate and deeper budgets, large athletics programs have often found it easier to infuse leading-edge premium club experiences for fans. However, new mid-sized arenas or stadiums are beginning to catch-up and find interesting ways to scale these offerings.
Virginia Tech's new English Field at Union Park now offers dedicated premium seating on terraces along the first baseline. In addition to premium menu options, waiter service and great sightlines, these spaces also allow fans access to a hospitality space at the press level during a game. The hospitality space is adjacent to four suites that offer both outside and interior seating options. Unique to these suites is the ability to open them all up to create one super-suite for increased fan interaction. The premium areas allow fans the flexibility to choose how they want to experience Hokie games. The stadium also offers traditional seating, grass terraces and other informal viewing areas suitable for both the campus and local Blacksburg community. Virginia Tech's ability to infuse premium offerings as part of a wide array of fan experience stands out given the venue's capacity (1,232 fixed seats with space for 3,000+).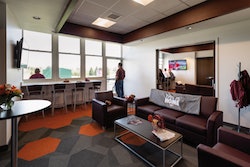 "(It's a) big-time improvement — it looks more like a minor league field," one fan told the Roanoke Times in a recent piece about the ballpark's opening.
Bigger is not universally better. Virginia Tech is helping to lead the charge in creating a personal and flexible experience for their fan base that rivals nearly any larger venue.
Engaging community to increase revenue streams
For numerous reasons, mid-sized colleges and universities often have unique ways to engage the surrounding community through their athletic venues. Whether due to the fact the surrounding region may lack performance venues that can host concerts and conventions or just pure demographics, institutions faced with this reality can embrace the opportunity both engage its local community and secure additional revenue with special events.
The University of Maryland Baltimore County (UMBC) exemplifies this strategy with its new multi-functional Campus Event Center. Home to UMBC's men's and women's basketball teams and its women's volleyball squad, the center is able to remove and stack its wooden court to host concerts, trade shows and commencement ceremonies for UMCB and nearby high schools. The day the building opened in Feb 2018, it already had four major ticketed events scheduled through May.
"In this areas of the country, we don't have a very large facility like this," Nancy Young, UMBC's vice president for school affairs told the Baltimore Sun, "Through offering concerts, trade shows and even art events and performances, the building will be a cultural hub for the region." Young also indicated in the story the university looks forward to offering, "the kinds of things there hasn't been a lot of opportunity for in our part of the country."

Focus on shared spaces and synergies
Given that smaller venues are inherently...smaller, they have less real estate to work with. In these cases, one of the ways institutions can maximize the return on their investment is to focus on sharing public and support spaces between teams, departments and programs.
The University of Vermont (UVM) is embracing this idea in the design of its new on-campus multipurpose center, which will serve as a dynamic campus hub. Through preserving the university's 4,000-seat Gutterson Arena and introducing a new 3,200 seat multipurpose events center, the venue will maintain the home of UVM's hockey team while adding a new venue for the basketball teams. The facility will also offer space for recreation, academics, student wellness and special events. Interestingly, the two arenas are strategically co-located on UVM's campus to share spectator amenities including a central premium lobby, ticketing operations, public restrooms, concessions, a film/media room, production suite, and a VIP Victory Club — a space that offers views and seating toward both the renovated hockey arena and the new events center — for premium fan experiences.
Decisions to co-locate amenities can reduce the building footprint, construction costs and offer a unique opportunity to bring fans together into a single complex.
Collegiate sports are in a state of perpetual change regardless of size or stature and institutions are all too familiar with the competitive nature of their athletic programs and facilities. Shifts in technology, fan experience and student athlete training needs challenge colleges and universities to stay relevant, and to strategically and continuously invest in their own facilities. When designed and executed correctly, mid-level venues can be a remarkably beneficial hub for the entire campus community.
Mike Cornoni, AIA, LEED AP and Chad Barrington, LEED AP, are key leaders in CannonDesign's sports practice. They partner with colleges and universities across the country.