A hot topic popping up in conversations at college athletic and educational facility management conferences is using football stadiums for events and uses other than game days.
With only five to six home football games each season, converting stadiums into multipurpose facilities for non-football events makes sense on many levels, especially for the smaller NCAA Division II and III schools.
First and foremost, those schools typically don't have the deep pockets of schools like Ohio State University, University of Alabama and other college football bluebloods that have the luxury of spending millions of dollars on building and maintaining stadiums and letting them sit empty 360 days a year.
Turning football stadiums into multi-event facilities also provides a new and vital source of revenue for schools, particularly for those struggling to cover spiraling operational costs. A dual purpose facility would help give them the needed financial resources to build or renovate both academic and athletic facilities, as well as more money to spend on campus activities for students.
Finding new ways to maximize the considerable investment in college football stadiums takes on a greater significance, given a decline in fan attendance. In recent years, fewer people can be found in the stands at college stadiums because of more games being broadcasted on TV, escalating ticket prices and other factors.
Multi-event facilities also would benefit from "town-and-gown" relations. School- or community-sponsored events at stadiums-turned-multipurpose facilities allow students, faculty, and area residents to interact more freely with each other, thus strengthening the unity between the university and the local community.
Converting stadiums and arenas into mixed-event facilities is hardly a new idea. Professional sports facilities across the U.S. have for years been doing things such as attaching a conference center to these facilities. For example, Progressive Park in Cleveland offers ice skating and snow tubing during the winter months. Off-season events at other sports stadiums include rock concerts, monster truck competitions, and even a bowling tournament.
While building stadiums that have more than one function at colleges and universities is a trend that may not reached the same level as professional sports venues, it is an intriguing topic being discussed lately among some higher-educational institutions.
But while others are still kicking around this idea, a few have already renovated or built new stadiums to be much more than the site of a football or soccer field.
For example, Tecnólogico de Monterrey, one of the largest universities in Latin America, celebrated the opening of its new multipurpose stadium, called Estadio Borregos, along with the school's 75th anniversary.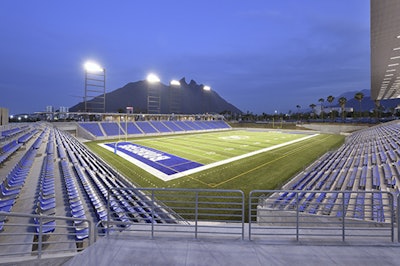 The roughly $40 million stadium, an integrated design-build project, sits on a 34- acre site that frames the scenic mountain backdrop of the Cerro de la Silla. It took more than 1.5 million worker-hours to complete the stadium project over three years.
TEC stadium features 10,000 fixed seats for football and soccer games. It can add another 10,000 seats for concerts and other non-sporting events, such as the annual ExpoTEC, a local fair hosted by the university that includes students from all over Mexico. The university's goal is to have sports or non-sports events at the stadium every weekend year-round.
The stadium is also part of an urban revitalization initiative called DistritoTec, which plans to integrate public space with neighboring communities, creating an entrepreneurial and innovative environment.
Beyond hosting additional events, the stadium allows greater built-in flexibility for the university and the community that blends in with the campus and urban landscape. Some of those unique design features include:
A feeling that mimics a soccer stadium to help a Latin American audience appreciate American football
By lowering the field and making the concourse meet street level, the visual impact of this significant structure reduces to a scale that fits its urban setting
Similarly, exposing concrete and wood throughout the stadium is reminiscent of the University's historic classroom buildings
Expanded concourses to improve pedestrian traffic and allow room for community events like ExpoTEC
A large plaza above the south end zone outside the stadium gate for community use which can accommodate seating overlooking the stadium, food trucks, and leasable space open to the public outside stadium hours
Trellises surrounding the stadium's east concourse provide shade for events
On the stadium's west side, an extended roof canopy offers rain protection and shade for approximately 4,000 seats on the "Home" side or creates a VIP section for other events
Designed to comply with NCAA standards to potentially host games and events featuring American colleges and universities
An open terrace on the stadium's second floor, which includes space with high-top tables in the press box, as well as multi-purpose rooms that can divide into smaller areas for classrooms, student organizations, and team meetings, and revenue-producing luxury suites for concerts and other events
Facilities housing men's and women's multi-purpose locker rooms, athletic offices overlooking practice fields, weight-training and rehabilitation space, and an athletes' lounge make it the home for the entire athletic department
Toyota Stadium, a Dallas professional soccer stadium, confirmed the university's decision on what its stadium could be. The university demolished its old stadium because it had fallen into disrepair and its massive size separated the campus from the community.
During a tour of the 20,000-plus seat Toyota Stadium, which has hosted non-sporting events like rock band Blink 182, visiting Tecnológico de Monterrey officials were impressed with the facility that they later decided the school's new stadium would also take a multipurpose design approach.
But the Estadio Borregos is more than just a facility to hold events. It's representative of the school's new teaching methodology called Tec 21, which migrates from a traditional educational model to a challenge-based active learning environment.
This new academic philosophy promotes the idea that Tecnológico de Monterrey, its athletic department, and the use of facility like Estadio Borregos develops leadership and the mind/body/spirit pedagogy for students. Similarly, by breaking down barriers between the university and community, students are prepared to continue their leadership in the local community.
New and innovative design features and philosophies make it possible to kick off a new era of college sports stadiums, which no longer need to be limited to single-use events. That means the days of eerily quiet and desolate stadiums during the off-season will become a thing of the past. Schools like Tecnológico de Monterrey will instead reap the educational, economic, and social benefits of turning their stadiums into places, where different types of events can be enjoyed year-round by all.
Tobias Newham is an Associate Principal at The Beck Group's Dallas office.