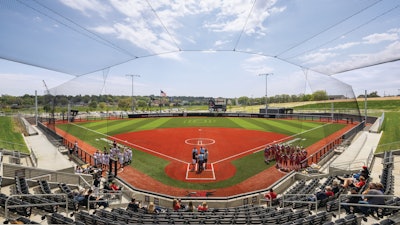 Grand Openings
The first on-campus home for University of Nebraska Omaha baseball and softball teams in school history was completed this spring. The $23.5 million, 532,000-square-foot field and facilities at Maverick Park added a "Y" shaped pavilion and a covered, open-air second deck open to both fields to provide equal access to fan amenities at Tal Anderson Field (baseball) and Connie Claussen Field (softball). Highlights include cast-in-place concrete seating bowls, a shared spectator pavilion, synthetic turf fields, a press box, a broadcast studio, an open concourse, video boards, restrooms, tunnel access, and practice and training facilities.
The City of Victoria, Texas, recently opened its new 12-acre soccer facility for community use. Construction on the Riverside Soccer Complex fields began in August 2020. The complex was approved in June 2020 after the Victoria Youth Soccer Organization reached out to the city in search of a place to play.
First Pitch
Davidson College Athletics in North Carolina has announced plans for new facilities. Currently in design, projects include a new stadium that will serve as the home for Wildcats football and lacrosse programs; a new fieldhouse, featuring a sports performance center equipped to serve all 21 Division I teams, along with an athletic training room, locker rooms for football, lacrosse and field hockey; and an enhanced track and field complex. The track at Richardson Stadium will also be renovated with new locker rooms. Construction could begin as early as summer 2022 and is estimated to take two years to complete.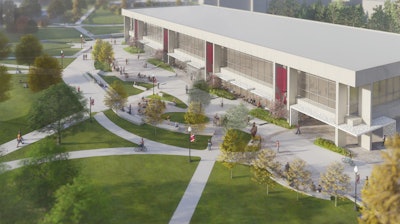 The Quillen Family Spirit Plaza at Virginia Tech is planned to connect residential spaces to Hokie athletics. The Spirit Plaza will be located outside Dietrick Hall and is planned to modernize a central campus gathering place. Renovations will expand the available usable space, infuse more elements that build on an atmosphere of school spirit, and help foster social interaction and collaboration. Ideas include adding more brand elements throughout the plaza; new accessible pathways, outdoor seating and tables; and a HokieBird statue for photo opportunities.
Breaking Ground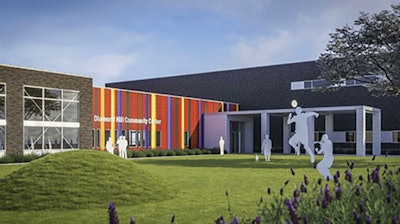 Officials broke ground on the $10.9 million Diamond Hill Community Center in Fort Worth, Texas, in late September. The new facility will be a state-of-the-art, 25,000-square-foot community center with a gymnasium, boxing gym, teaching kitchen, fitness center, meeting spaces, game room, computer lab and more. The existing 17,000-foot center, built in the 1950s, will be demolished once the new building is complete.
A groundbreaking ceremony in Montana celebrated the future Aim High/Big Sky Indoor Aquatics & Recreation Center in Great Falls. The center is planned to meet community recreational and aquatics needs and fill unmet training needs for airmen from Malmstrom Air Force Base and the Montana Air National Guard. Targeting a 2023 completion date, the 50,000-square-foot facility will be owned and operated by the Great Falls Park & Recreation Department and located on city property, while serving as a focal point for annual training for more than 100 air crew members in the Air National Guard.