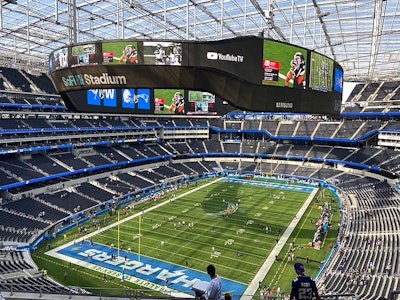 Those in attendance at SoFi Stadium for the NFC Championship Game between the Los Angeles Rams and the San Francisco 49ers will have already shelled out a bundle for their tickets, but that doesn't include what they'll have to pay to simply park their vehicle.
Onsite parking passes at the $5B+ SoFi Stadium In Inglewood, Calif., are going for around $300 per spot, and rising.
Arash Markazi, of ESPN Radio, reported via Twitter that spots at a nearby high school are going for about $175, and $200 at a nearby residential unit. Parking spots at a nearby medical center's garage are currently being snapped up for a whopping $498.
Log in to view the full article