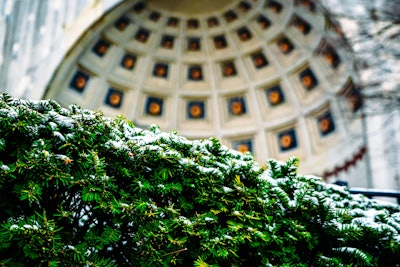 A proposal to expand the College Football Playoff to 12 teams included first-round games at the home field of the higher-seeded team in December before moving on to play at neutral sites in later rounds.
As reported by the Dayton Daily News, one of the reasons that proposal has not been approved yet is disagreement about where to play the first-round games.
Ohio State University athletic director Gene Smith, a Cleveland native who played at Notre Dame in the 1970s, confirmed during a wide-ranging press conference Wednesday he is not in favor of playing football outdoors even if his team gets the chance to host a playoff game at Ohio Stadium.
Smith first mentioned this last summer at Big Ten Media Days, according to the Daily News, but he went into more detail Wednesday during the hour-long press conference. HIs top concern is potential field conditions, especially for a Buckeyes team built around its current quarterback C.J. Stroud and speed at the skill positions.
Smith's preference would be to play a first-round CFP game at Lucas Oil Stadium in Indianapolis, the host site of the Big Ten Championship, or at U.S. Bank Stadium in Minneapolis, or at Ford Field in Detroit. All three are domed stadiums.
"I know the fans would love to have it in [Ohio Stadium] and maybe it's snowing or we're playing whoever, but that surface is a whole new ballgame," Smith said. "I would prefer to have the indoor elements and have a clean field.
"If it was this year, I would want C.J. to have good weather. It's just that simple."
Smith, who formerly was director of athletics at Arizona State, later clarified he is fine with the idea of teams having the option to play at home, but he also wants them to have the option to move the game to a neutral site if they desire.
"We would only do that because of weather," Smith said. "So I just want it for the north. I certainly wouldn't want to go to Scottsdale and play in Glendale when you can play outdoors at Arizona State."
The Buckeyes have appeared in the Big Ten Championship at Lucas Oil Stadium six times since the game's inception in 2011. Their 5-1 record at the site includes a streak of four straight title-clinching victories from 2017 to 2020.
"I think our fans understand that environment," Smith said. "They love the hotels, they love the restaurants and all that. So while it's difficult to take it away from 'the Shoe,' I still think that's the right thing to do for the players in the game."
Reaction on Twitter told a different story. A small sampling, courtesy of Saturday Down South: