[Photo courtesy of UBS Arena]
In early April, the Centers for Disease Control and Prevention reported a sudden increase in cases of norovirus — more commonly known as the stomach flu. Health officials suggested that as COVID-19 hygiene protocols eased, the stomach bug found a chink in our collective armor.
In other news for the first week of April, a mass shooting in downtown Sacramento, Calif., left six people dead and 10 wounded. The incident marked the 120th mass shooting event of 2022.
These seemingly unrelated news items actually point to the intersection of two particularly important topics for sports venue operators — hygiene and safety. As part of any arena's informal agreement with ticket-buyers, venue operators seek to ensure attendees will be entertained in a safe and clean environment. It's understandable why fans might choose their couch and big screen on game day over venturing into a building packed with rowdy fans.
Nevertheless, sports fans are returning to stadiums and arenas in pre-pandemic numbers, and they're doing so in part because their venue of choice has made a concerted effort to ensure that the game-day environment remains a safe and comfortable backdrop to the exciting action on the court or field.
Here's a look at how operators and facility designers are making that happen by engineering a frictionless fan experience.
Limiting congestion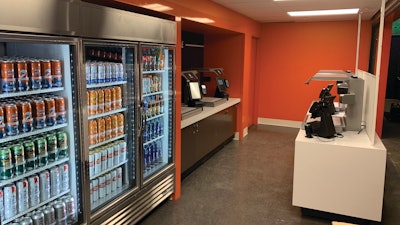 Any time large groups of people congregate in one place, chaos is a distinct possibility. In these situations, fan fervor, drunken behavior, transmission of viruses, and panic can all lead to unfortunate circumstances, if not tragedy. While there's no getting around the crowds at a major sporting event, operators are always looking for new ways to manage points of congestion, with long lines being a key concern.
"What we've always tried to do, even pre-pandemic, is to try not to consolidate your entrances into one location," says Joe Dyer, architect for Perkins & Will. "Now, through the pandemic, that's become even more important. We're always looking to provide access points at 360 degrees to the building as much as you can."
Dyer says that as operators attempt to speed ingress, they're really tackling two birds with one stone. "The pandemic stuff and the security angle, it's really about breaking the people up, and we actually think it helps from just a patron experience standpoint — it gets you into the building faster."
At first glance, mobile ticketing seemed like the silver bullet. All patrons would have to do is scan their phone and walk into the facility, right? Wrong. While it is convenient to purchase and store your ticket on your smartphone, fans still have to be screened for dangerous items. Unfortunately, most of the stadiums and arenas in the country weren't designed to have walk-through magnetometers at their entrances. Dyer explains the current process of getting fans into the stadium as the reverse of what happens at an airport.
"At the stadium or arena, people have their phones out, they're ready to scan their ticket, but then they have to put their phone in the bin, go through the magnetometer — then they get the black screen, and then they're fumbling through their phone again to get the screen back up, and it's just really slowing that ingress down," he says.
Fortunately, new technology is gaining acceptance — largely by NFL stadiums at the moment — that can do the heavy lifting of a magnetometer without having each person unload their belongings before entering the building.
Dyer explains, "These systems sit 30 to 40 feet outside the building and it's able to quickly go through hundreds of people as they're coming through, and if there's one person that maybe has a larger object, they will be pulled from the line individually, versus everybody having to go through this magnetometer situation, which is what's really queuing up these lines."
Fast food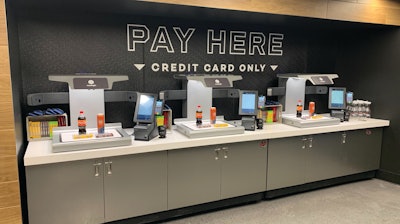 Concessions are an integral part of any stadium or arena experience. And while the majority of fans crave a cold beverage and something to eat as they watch the game, few enjoy the experience of waiting in line for those items. Fortunately, advances in technology are all but doing away with the long wait for food and beverage, while also providing hygiene and security benefits for fans and operators alike.
Mashgin is one of the players innovating in what Toby Awalt, a product specialist for the company, calls "high-velocity" retail technologies. The company originally started to address corporate cafeteria environments that see a large throughput of customers for short periods of time. Based on the success demonstrated in that market, sports venues have taken notice.
The Mashgin unit can be installed virtually anywhere — in a concessions area or even on a cart in an otherwise dead space on a concourse. The system uses nine cameras in combination with software that is able to recognize objects placed beneath them. Once the item has been identified — whether a banana or a bag of chips, it does so in seconds — the system adds it to a digital cart and the customer pays for their order on a built-in credit card reader.
"Sports are probably one of the most quintessential environments where our technology is best-suited, because it's a digital cart that fits in your hands," Awalt says. "You're aligned with your audience who wants to get out of there as fast possible, and your vendor who wants to feed as many people as fast as possible, so there's a very clear piece of just getting fans back to their seats and giving them what they want in order to keep them there."
Mashgin's technology differs slightly from Amazon's Just Walk Out technology, which uses facial recognition and cameras to monitor a customer's movements throughout a space. While Amazon's and Mashgin's solutions serve the same end, Mashgin's technology emerges slightly more flexible for stadium and arena operators.
"They can literally create an additional retail space with minimal resources," Awalt says, noting that makeshift beer locations can be erected anywhere in a stadium with only a single staff member needed to check identification and help if anyone has trouble with the tech.
Operators have reason to be enthusiastic. According to Awalt, the NFL's Denver Broncos installed Mashgin's systems at one of its beer locations. The space saw a 96 percent increase in throughput and a 34 percent increase in sales. The Honda Center in Anaheim, Calif., saw sales triple over the course of a hockey season at one concessions area where the facility installed Mashgin's technology.
A quick pivot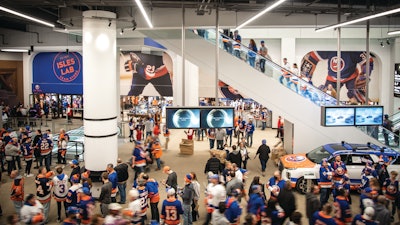 Little, if any, good comes from a pandemic, but it has forced operators to realize that the contactless fan experience is now the expectation and cannot be an afterthought.
Hank Abate, president of arena operations for the New York Islanders' UBS Arena, which opened in 2021, says the pandemic forced mid-construction changes to his facility.
"We were in the fortunate, or unfortunate, position of being right in the middle of the virus when we were under construction," Abate says. "It was early enough for us to realize that we had to make some really big adjustments to conform to what was going to be expected in terms of health and hygiene accommodations in the facility."
In response to COVID-19, UBS made modifications to HVAC systems, adding more air filtration systems and air exchanges to the building. Additionally, operators made the decision to launch as a cashless venue.
"I don't think we originally intended to be cashless at first, but I think that the pandemic pushed us to make that final decision," Abate admits. "We wanted to eventually go cashless, but realized that there was some hesitation on the part of some consumers and the safe thing was being ticketless, but I think the pandemic helped us move that decision along much quicker." He said UBS doesn't accept cash in the arena, at the box office, or at the parking lots, it's either pre-pay or charge it to your credit card.
UBS has also adopted Amazon's Just Walk Out technology, which Abate says has only been up and running at the facility for a short while but has seen a great reception from fans.
"I will tell you that we opened our new building in Seattle [Climate Pledge Arena, which like UBS is also part of Oak View Group], and they have several locations in that building, and it's huge," Abate says. "In fact, they have the palm technology there, so you can register your palm and then any time you go into that building you can just wave your palm over a scanner to pay for anything you want."
New norm, new possibilities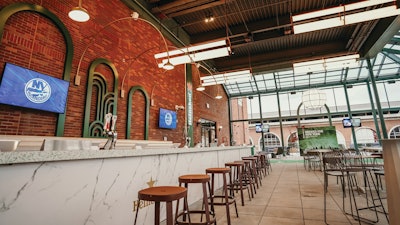 While things like mobile ticketing and contactless concessions may reduce lines and improve safety and the fan experience, these innovations are also offering operators more flexibility with their available space.
"It's actually leading to some other opportunities," says Dyer. "Let's take the box office for instance. We're seeing people doing away with the box office, or limiting the number of point-of-sale windows, because it's all app-based. That's opening up some space in some of these facilities for more ROI opportunities. Maybe a retail component could start to live in that space."
UBS's pivot to a cashless facility and contactless technologies represents a paradigm shift, as operators realize that fans' expectations are rapidly changing, and what was once the norm — interacting with a real person at the concessions stand or turning on a faucet in a bathroom — is now considered either a nuisance, unsafe or both.
"Where before we would come in to meet with a new client about — let's just take a restroom, for example — and we would want to come in and do all automatic soap dispensers, faucets, flush valves, but budgets are real, and people would say, 'Well, if we went with a non-handsfree solution, it's always more cost-effective,' " says Dyer. "Those conversations are not even happening anymore. It's all touchless in these bathrooms. Nobody wants to go touch a faucet now, so that's the reality of what we're seeing."