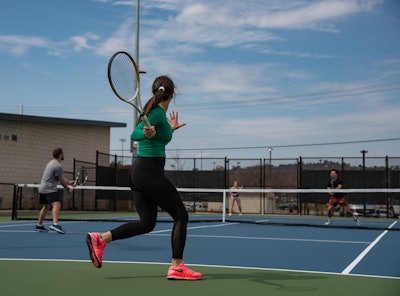 The University of Arkansas held a celebration to open its UREC Tennis Center this week.
The UREC Tennis Center features 12 tennis courts (four courts with backboards to allow for individual play) and a service facility that includes an equipment checkout center and restrooms. Pickleball can be played on the courts. Tennis racquets, pickleball racquets and balls can be checked out for use. Participants are encouraged to bring their own tennis balls.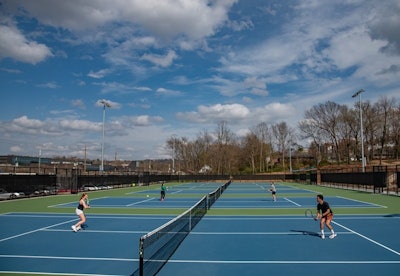 The new courts will expand on existing UREC programming for students and the campus. All University of Arkansas students and UREC members have access to the Tennis Center. UARK faculty, staff and community members may purchase a tennis-only membership.
A walking trail was also added that connects to the city of Fayetteville's trail system.
The UREC Tennis Center features 12 tennis courts and a service facility that includes and equipment checkout center, restrooms and wi-fi access. — University of Arkansas
---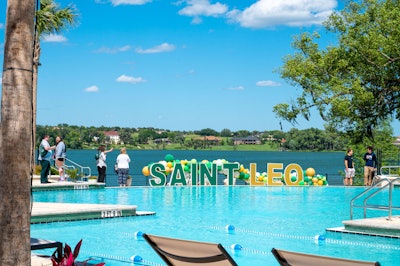 Saint Leo University in St. Leo, Fla., welcomed the community to new $20 million, 59,500-square-foot Wellness Center, nestled on the banks of Lake Jovita.
Saint Leo's Wellness Center creates an environment for holistic health and well-being that integrates student recreation, fitness, health services, counseling services and campus ministry.
Outdoor amenities include an infinity-edged recreational pool, resort style seating, a fire pit and barbecue area — all with a beautiful view of Lake Jovita. Inside, a two-court basketball gym and multipurpose area can be used for large-scale events, providing seating for more than 300 for a plated dinner or 700 for a conference or lecture-style event.
The ground-breaking ceremony for the Wellness Center was held on February 6, 2020, and the hope was to open in Fall 2021. Despite the COVID-19 pandemic, construction continued on pace, but supply chain issues caused delays. The opening was long-awaited by students, faculty, staff, alumni, and members of the surrounding community in St. Leo, Dade City and San Antonio, Fla.
Features of the Wellness Center:
Three fitness studios (Cycling, Group X, and Mind, Body Spirit) offer dedicated space for a variety of classes including Zumba, yoga, tai chi, spin, and more.
Spacious locker rooms and family change rooms offer showers, lockers, and dressing rooms and even a bathing suit spinner to make the transition from fitness to work even easier.
Shaded bar seating poolside and a take-out window offer easy access to food options without leaving the pool deck.
The Group X Studio is equipped with two Echelon Reflect Touchscreen Smart Fitness Mirrors to offer individual fitness workouts when classes are not in session.
Dedicated stretching areas allow for warm-up and cool-down opportunities on the Fitness Floor.
A mobile Wellness Center app allows for access to facility and fitness class schedules, important announcements, and membership information anytime and anywhere.
Facts & figures:
Architect: S3 Design Inc., Braintree, MA
Construction Firm: Creative Contractors Inc., Clearwater, FL
Project Management: JLL, Tampa, FL
Stories: 3
Site: West side of campus, 33701 State Road 52, St. Leo, FL 33574
Board of Trustees Chair John View said the trustees began talking about a signature building several years ago as well as the need for more recreation and fitness space on campus. "The Bowman [Marion Bowman Activities Center] opened my senior year," the 1972 Saint Leo alumnus said. "This will be a community gathering place for the greater Saint Leo community." — Saint Leo University
---
The University of New Mexico Athletics Department announced a multimillion-dollar project that will rise from the void inside the football stadium.
The school broke ground on a $4.3 million, 11,312-square-foot training center inside University Stadium.
Attached the Tow Diehm Facility, it will extend to within 30 feet of the goalposts in the south end zone and house an expansive 7,000-square foot weight room and 1,538-foot aerobic training area.
It will take about a year and a half to finish and is expected to open in fall 2023. The department welcomes visitors to the Maloof Administration Building outside the stadium with a series of architectural renderings that show a glass-walled building overlooking the field. — Santa Fe New Mexican