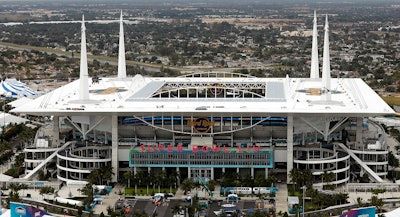 Two people were injured Friday morning after an electrical incident at Hard Rock Stadium in Miami, Fla.
"We can confirm that two workers were taken to the hospital to receive medical attention for non-life-threatening injuries following an electrical incident," a stadium spokesman said in a statement Friday night, according to The Palm Beach Post. "We will continue to monitor the situation and have been in communication with the appropriate authorities."
First responders received a call at 10:19 a.m. Friday morning and treated two adults at the scene. One had to be airlifted to the hospital. The other was taken by ambulance.
The Post reported that the injuries are believed to be related to ongoing work at the stadium in preparation for next weekend's Formula 1 race.
The facility was not damaged in the incident.