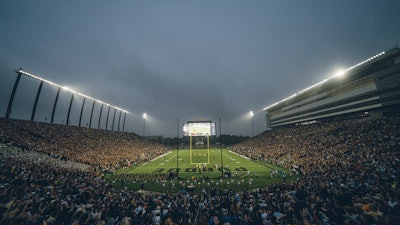 [Photo courtesy of Purdue Athletics]


First Pitch
Purdue University's Board of Trustees has approved plans to renovate the Boilermakers' football stadium and basketball arena. The $45.5 million renovation plans for Ross-Ade Stadium will add more than 18,000 square feet to 9,300 square feet of existing space. A tunnel and players entrance will be constructed linking the Kozuch Football Performance Complex to Rohrman Field. The plans will also convert the Purdue team store into a student-athlete dining facility and construct a concourse connector and additional seating in the south end zone. Work is scheduled to begin in November and finish in August 2023.
The $6.7 million Mackey Arena renovation will involve about 12,500 square feet of the men's and women's basketball locker rooms and player lounges, and include the John Wooden Club on the Event Level. Renovations will focus on updating and modernizing the layouts, technology, finishes and furnishings in all three spaces. Work is scheduled to begin in March 2023 and wrap that September.
Grand Openings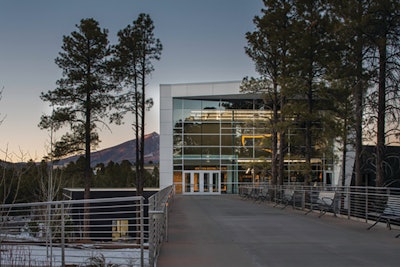 The Northern Arizona University Lumberjacks have opened the $46 million Student-Athlete High Performance Center. Designed by DLR Group and built by CORE Construction, the 72,000-square-foot training center has an indoor multipurpose stadium for various Lumberjack programs. Nestled into a hillside filled with ponderosa pines and views of Humphreys Peak, the center increases available academic, weight training, recovery and nutrition space. To enter the building, visitors cross a 140-foot walking bridge that begins at the base of the tree line and elevates 20 feet to the canopy level of the old-growth trees before reaching the entry — a design that allowed DLR Group to leave the site as untouched as possible.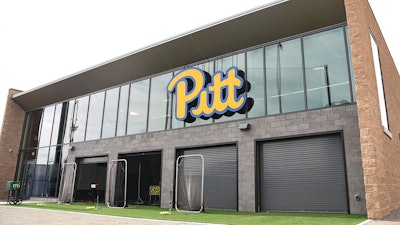 The University of Pittsburgh's state-of-the-art indoor batting cage facility at Vartabedian Field debuted in April. Located behind the scoreboard in left field, the 3,600-square-foot facility includes two netted batting cages, three infield clay pitching mounds, and six instant feedback cameras with four monitors and surround sound speakers. The facility is heated for the winter months and utilizes two industrial fans during the spring and summer. Four retractable garage doors allow for outdoor hitting against a portable net.

The UREC Tennis Center at the University of Arkansas, which opened in April, features 12 tennis courts (four courts with backboards allow for individual play) and a service facility with an equipment checkout center, restrooms and wi-fi — all helping to expand on existing UREC programming for students and the campus. As part of the project, a walking trail was also added and connects to the City of Fayetteville's trail system.
Breaking Ground
Georgia Southern University athletics announced that construction has begun on the Anthony P. Tippins Family Indoor Practice Facility in Statesboro. The $12.3 million facility, to be built adjacent to Allen E. Paulson Stadium, will serve all 17 NCAA-sponsored Eagles athletic programs. The project, which is slated for completion in early 2023, will benefit all 400 student-athletes while creating new revenue-generating opportunities for the department.