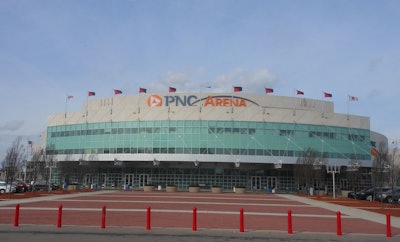 Centennial Authority, which owns PNC Arena in Raleigh, N.C., is considering adding a sportsbook as part of the proposed upgrades to the 23-year-old arena that plays host to the NHL's Carolina Hurricanes and North Carolina State's men's basketball. 
"It activates part of the building all the time," Philip Isley, the board's chairman, told WRAL. "That's the big deal. We have activation either on the property itself or within the building to where people are here at six o'clock on a Wednesday night in August when no one is here. That then becomes another part of how we view this building as more of a community asset that is activated all the time versus just on game nights or concerts or other community events."
The Centennial board has sought ideas from architectural firms Ratio and HOK on ways to add amenities to the building that will improve the fan experience and generate additional revenue. 
The Hurricanes have been strong proponents of expanding sports gambling in South Carolina, but recent bills introduced by the legislature to do so are still in limbo. 
"We were disappointed, but we're also optimistic that we'll see it in the future," said Hurricanes' general manager Don Wadell, who has been leading the franchise's efforts on the legislation. "It's very important because all the other teams are getting it and so it just puts us behind. We're behind because of ticket prices and sponsorship dollars and all that so it just puts us further behind from a revenue standpoint."
The original price for renovations to PNC was pegged at $220 million back in 2020, but that's expected to rise due to inflation and supply chain issues. 
"It's going to be a big number," Isley said. "What I ultimately would love to see is an a la carte menu. OK, this is going to cost this. What are your options? What do you get more bang for the buck for? Where are their funding opportunities that we don't have to pay for? ... It's going to be a bigger number than what we have seen before, but I'm nervous to guess or speculate or even say it out loud for fear that everyone's going to freak. But I know it's going to be big."