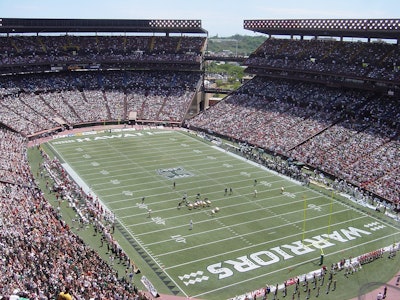 By This photo was taken and originally uploaded by Bobak to English Wikipedia. Uploaded to Commons by Clio64 at fr.wikipedia - Own picture (by Bobak), CC BY 3.0, https://commons.wikimedia.org/w/index.php?curid=2133538
Hawaii governor David Ige has approved $400 million to replace Aloha Stadium with a complete entertainment district that will feature a new multi-purpose stadium as its centerpiece.
"Aloha Stadium has served as a vital gathering place for some 40 years now, where residents and visitors come together to enjoy athletic events and concerts. The recent Bruno Mars, Eagles and Guns and Roses concerts, as well as the upcoming L.A. Rams game – make it very clear that Hawai'i needs to invest in a new stadium to serve our state for generations to come," Ige said in statement.
The bill appropriates funding for the construction of a new stadium and complementary development of land that will help generate revenue for the state and help offset costs of the project. The funding includes $20 million in capital, $150 million in bonds and $180 million in revenue bonds.
Gov. Ige also signed a bill which appropriates $4 million to assist athletics programs at the University of Hawai'i at Mānoa and Hilo. The funds will go toward student athletes, operations and team travel.
The new stadium will be smaller than the previous one and will move from a capacity of 50,000 to 35,000 seats. It will allow for the hosting of football, soccer, rugby and other sports that are played on a rectangular field.
In addition, concerts, community functions and family-oriented events will be hosted in the facility. The multipurpose stadium would have a comprehensive array of fan amenities and support spaces to market new events, including additional luxury seating options, more extensive concessions, and improved facility circulation.
The construction of the new stadium facility and ancillary development of the entertainment district surrounding the new stadium will be pursued under a public-private-partnership between the state and a private developer selected by the state.