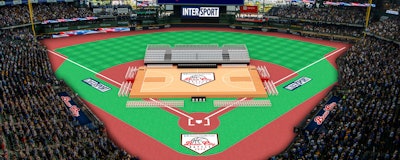 The MLB's Milwaukee Brewers today announced that the organization will bring college basketball to the team's American Family Field in November.
According to the Brewers' website, the 2022 Aurora Health Care Brew City Battle will feature a men's and women's basketball doubleheader on Friday, November 11, 2022.
The Wisconsin Badgers men's team will take on the Stanford Cardinal in the primetime game. The UW women's team will face off against the K-State Wildcats in the opening game of the evening.
This will be the first time in the stadium's history that the facility will be transformed into a basketball venue.
The court will be positioned across the infield, with center court near the pitcher's mound. Temporary seating will be installed just beyond second base to provide a premium fan experience, along with additional field-level seating around the court. Tickets for on-field seats will be all-inclusive with a variety of food and beverage options, and nearly all of the existing seating areas of American Family Field will be available.