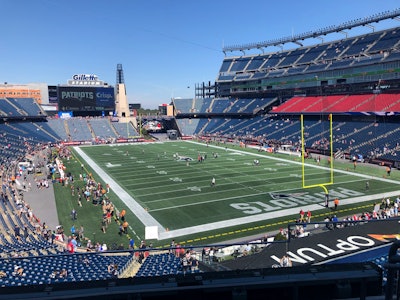 Photo courtesy of Nathan Macoul
New England Patriots head coach Bill Belichick says a soon-to-be-completed $225 million renovation of Gillette Stadium will actually impact the game on the field.
Fans are expected to enjoy the new amenities, including what the team says will be "the largest outdoor stadium high-definition video board in the country." Behind the board will be 75,000 square feet of enclosed glass space that will connect the upper concourse for full 360-degree accessibility.
The new addition will close the open-air section of the stadium where the Patriots' iconic lighthouse once stood. As it used to be, the area allowed wind to tunnel through the gaping space, creating a swirling affect that impacted a thrown or kicked ball.
That unique quirk, which gave the Patriots a small advantage, will be going away when the renovations are complete in 2023.
"Yeah we've definitely talked about it," Belichick said Tuesday prior to New England's sixth training camp practice when asked about the renovations and the closing of that gap, according to CBS Sports. "Absolutely, I think that will definitely affect the game, certainly affect the kicking everywhere, but especially in the open -- whatever end that is, the far end, the lighthouse end. Absolutely, for sure, that'll be a factor."
The Patriots are slated to hold their first in-stadium practice on Friday, which will present on of the first opportunities to see how the renovation could impact the team's overall strategy.