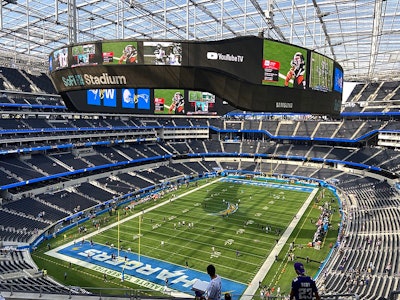 The Los Angeles Rams' $5 billion SoFi Stadium in Inglewood, Calif., doesn't have air conditioning, but that doesn't mean fans and players will suffer through excessive heat Thursday when the Buffalo Bills come to town.
As the heat wave in the western United States continues, temperatures are expected to be in the 90s but should cool down before kickoff.
While SoFi doesn't have air conditioning, the stadium has specially designed roof and walls that are situated to allow the facility to naturally cool through breezes coming in off the ocean.
According to Yahoo News, the openings in the stadium are designed to pull in ocean breezes through their aerodynamic shape and can tune wind flow.
The stadium is located just over four miles from the Pacific Ocean, where temperatures are in the lower 70s.
Operators have not said whether other precautions will be taken to ensure the safety of the 70,000 fans expected to be attendance.