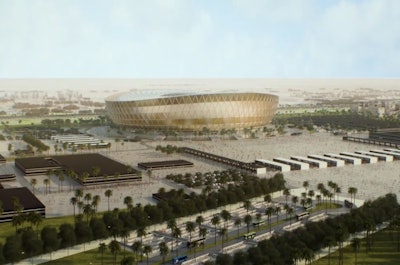 By AFL Architects on Vimeo.com - Screen capture of "Lusail Stadium" (released under the CC BY 3.0 license) on Vimeo.com @ 1:27Vimeo: 314025543 (view archived source), CC BY 3.0, https://commons.wikimedia.org/w/index.php?curid=88813998
In two months Qatar will host the 2022 FIFA World Cup, but reactions to the country's largest venue for the event are decidedly negative.
Lusail Stadium, which has a capacity of 80,000 and cost around $767 million, hosted its first match on Friday and the reviews were not good.
According to Yahoo Sports, a lack of hydrations stations and bathrooms, as well as poor air conditioning and lackluster transportation lines, were among the many complaints from attendees at the match between Al Hilal of the Saudi Professional League and Zamalek of the Egyptian Premier League.
"Let us through! We have children," cried one man carrying a sweaty toddler, according to Reuters. "We need water. Is there water?" a woman shouted from behind the line.
"This is such a mess," said Eslam, an Egyptian fan who has lived in Doha since 2004 and had his arm around a bleary-eyed and exhausted friend in the line. "I don't want to go to the World Cup any more. Not if it's like this."
A spokesman for Qatar said the issued would be resolved before the opening match of the World Cup, noting that the early match helped organizers identify what needs to be fixed.
Lusail is one of eight stadiums built throughout Qatar for the World Cup, and by far the largest.
Qatar has taken criticism for allegedly exploiting migrant workers from Bangladesh, India and Napal to build Lusail. The Guardian reported in early 2021 more than 6,500 of the 1.7 million migrant workers died in Qatar since construction began.
FIFA president Gianni Infantino dismissed those claims.
"When you give work to somebody, even in hard conditions, you give him dignity and pride," Infantino said, via USA Today. "It's not charity. You don't make charity. You don't give something to somebody and say, 'Stay where you are. I give you something and I feel good.' ...
"Now 6,000 might have died in other works and so on," Infantino added, "and of course, FIFA is not the police of the world or responsible for everything that happens around the world. But thanks to FIFA, thanks to football, we have been able to address the status of all the 1.5 million workers working in Qatar."