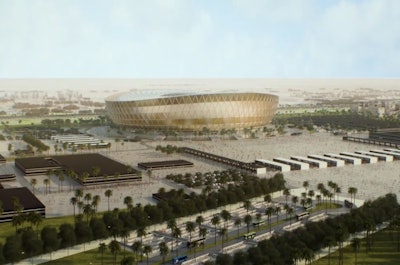 By AFL Architects on Vimeo.com - Screen capture of "Lusail Stadium" (released under the CC BY 3.0 license) on Vimeo.com @ 1:27Vimeo: 314025543 (view archived source), CC BY 3.0, https://commons.wikimedia.org/w/index.php?curid=88813998
In two months Qatar will host the 2022 FIFA World Cup, but reactions to the country's largest venue for the event are decidedly negative.
Lusail Stadium, which has a capacity of 80,000 and cost around $767 million, hosted its first match on Friday and the reviews were not good.
According to Yahoo Sports, a lack of hydrations stations and bathrooms, as well as poor air conditioning and lackluster transportation lines, were among the many complaints from attendees at the match between Al Hilal of the Saudi Professional League and Zamalek of the Egyptian Premier League.
Log in to view the full article