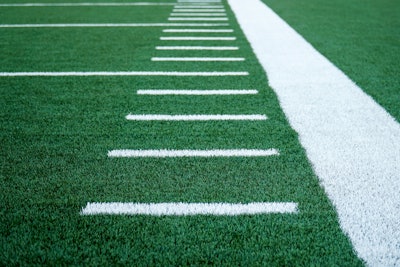 The NFL Players Association this week issued a call for the league to improve the playing surfaces at a number of its stadiums, calling for the removal of certain types of turf fields.
In a statement, the NFLPA demanded the replacement and ban of all slit film turf, which the association says has higher in-game injury rates compared to all other surfaces.
"The NFL and its experts have agreed with this data and acknowledge that the slit film field is less safe," the statement reads. "Player leadership wrote a letter to the NFL this week demanding the immediate removal of these fields and a ban on them going forward, both in stadiums and for practice fields. The NFL has not only refused to mandate this change immediately, but they have also refused to commit to mandating a change away from slit film in the future at all."
There are currently seven teams that use slit film in their stadiums, including the New York Giants, New York Jets, Detroit Lions, Minnesota Vikings, New Orleans Saints, Indianapolis Colts, and Cincinnati Bengals.
The statement also took aim at fields with "clear visual abnormalities."
"Too often we see fields with clear issues that pose an increased risk to the players," the NFLPA wrote. "Most recently, we saw the field in Tottenham that had a giant uneven seam right above the numbers. We should not be playing on anything but the best-quality playing surfaces. We saw this in Chicago and Las Vegas during the preseason as well, with chunks of grass torn up. This is an embarrassment."
Aside from replacing turf at the noted fields, the NFLPA is also looking to update 13-year-old standards that evaluate the safety of NFL fields, while also removing excessive people and dangerous equipment from the sidelines.
"We need to accelerate the joint development of new performance and safety standards that can be used to test every single field. The good news is that the NFLPA and NFL are currently engaged in research to, for the first time, establish these standards."
The NFLPA's call to action comes in the wake of comments this week from Green Bay Packers quarterback Aaron Rodgers who stated that he thinks all stadiums should move to grass fields. That said, he's not hopeful it will happen.
"I don't have a lot of confidence when it comes to the league making that decision without some sort of big vote and gripes from certain owners who don't want to spend the money," Rodgers said Tuesday, according to ESPN.