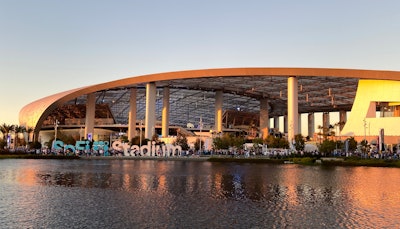 The Los Angeles Rams are in the midst of a .500 season and preparing to welcome the Denver Broncos on Christmas Day, a game the team is worried fans won't turn out for.
The Rams are reportedly trying to maneuver around the prospect of an empty stadium by trying to get season-ticket holders to give their tickets to people who might want to see the game.
"The Rams are trying to get ahead of a brewing Christmas Day no-show problem and steer unused season tickets to charities," Ben Fischer of Sports Business Journal wrote.
The Rams are incentivizing their fans to donate their tickets to one of 28 charities if they don't plan to attend the game.
All season-ticket holders who donate their tickets in this program will get a chance to win prizes from Rams sponsors including New Era,Diageo, Hilton, Meat District, Ikon and La Brea Bakery. Eligible charities include Boys & Girls Club of Metro LA, Brotherhood Crusade, A Place Called Home, Heart of Los Angeles, Operation Progress and Anti-Recidivism Coalition.