The term "smart building" has been thrown around for years now, and today's stadium and arena operators leverage sophisticated technologies to monitor everything from temperature and airflow to humidity and even occupancy density. But to what end? When it comes to building more intelligent athletics stadiums and arenas, the technology underpinning the endeavor is first and foremost aimed at ensuring the safety and comfort of fans and spectators.
"The experience is the strategy," says Sam Girard, vice president of customer success for Johnson Controls, which has helped engineer the underlying smarts for modern arenas such as the Milwaukee Bucks' Fiserv Forum, as well as the eight stadiums in Qatar that hosted the 2022 FIFA World Cup. For Girard, a building's intelligence should be judged by how it meets the unique requirements for any given venue to create a great fan experience.
"For a facility like Fiserv, I have different events going on almost every other day," Girard explains, noting that there may be weeks where Fiserv hosts two NBA basketball games, a monster truck event and a concert. "So therefore, I have to have like a transformer view of my stadium."
The technology — the network, sensors and software — allows for the type of flexibility Girard describes. Here's a look at some of the ways technology is making the modern sports venue smarter and in turn creating a great experience for fans, while also ensuring safety, driving efficiencies and generating additional revenue for operators.
Robust networks
Most everyone has had the experience of being unable to get even one bar of service, much less text a picture to a friend from their seat in the stands. For the most part, operators have surmounted this problem by beefing up Wi-Fi and cellular service in their venues. However, they haven't done this simply so fans can send a text message but rather as a matter of necessity, as everything from mobile concessions to the heating or cooling of the building heavily relies on a robust and reliable network.
"The network has become the fourth utility because everything is plugged into it," says Ken Martin, general manager and director of global sales in the Sports and Entertainment Solutions Group at Cisco. "It powers the lighting, the HVAC, the PA system in a stadium, the audio-visual systems, all that content you're pushing to any screen to activate sponsorships or a digital menu."
As increasingly sophisticated systems are implemented in modern venues, operators have had to continue to increase network bandwidth and speed. Martin notes that at SoFi Stadium in Los Angeles, the network connects more than 12,000 physical devices, ranging from lighting to heating and cooling systems.
"Ten years ago, these venues were getting excited about doing six terabytes worth of data during an event," says Martin. "Fast forward to this last Super Bowl that we had at SoFi Stadium — it was 32 terabytes of data over the network during that one event."
In fact, the network has become so important that operators can lose out on supplemental revenue streams if their network can't handle what's required by a potential client. Martin references a recent booking at SoFi Stadium. "We had a Korean pop band play SoFi, and part of the engagement with the audience was through lightsticks that had to be programmed into the Wi-Fi," Martin says. "So you had to tell the stick what section you were in, what row you were in, and what seat you were in, and you became part of the show. At one point during that concert, we did one terabyte of data in 10 minutes, because it's not just those lightsticks, it's everybody holding up their phone, livestreaming. You know, 'I'm here, you're not.' It's not just taking a picture anymore. It's 'I'm enjoying this event, you're going to join with me while I'm here.' These artists are looking at venues and saying, 'If you can't do that type of traffic, you can't enable the show that I want to have.' "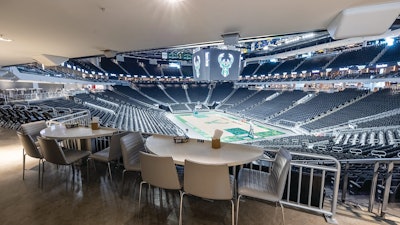 Mitigating crowd congestion
No one likes waiting in line at a sporting event, whether it be for the restrooms, concessions or entering the event. Long lines have safety implications, can adversely impact the fan experience and ultimately result in fewer sales of food, drink and merchandise.
Crowd congestion can be managed by monitoring where people are throughout the venue and then deploying a variety of technologies to inform guests' decisions throughout the game-day experience. For instance, if an operator knows in real time how many people are in line at every concessions stand in the venue, this can then be displayed on digital signage, or communicated through a mobile app, allowing patrons to discern the shortest queue throughout the building.
Martin references WaitTime, a company that offers a camera-based monitoring system that counts heads in real time and is connected to a sophisticated software platform. "They take that information, and they push it out over the network through a digital signage solution so that you can visually see how many people are in any one given area," he says. "And then you can make recommendations as to where to go. When you come up out of the stands onto the concourse, it will actually tell you to turn left or right, depending on what I'm looking for and where the shortest lines are."
Aside from offering fans the convenience of shorter lines managing turnstile congestion at large events can be a matter of life or death.
"At the World Cup, we have to really closely monitor the turnstiles, because when you have a crowd pressing in, people can get injured," Girard says. "Through the use of these systems, you actually can speed up or slow down what goes on at the turnstiles based upon analytics and monitoring of people. You can reroute parking buses to go to other parts of the stadium depending on congestion. So you're looking at the safety and security of the patron first, and then making sure that the building is smart enough to move people in different areas or lock down people in certain areas in the event of an emergency."
Smart signage
The Dallas Cowboys' AT&T Stadium, built 12 years ago, has 3,800 screens throughout the venue. They're there for a variety of reasons, from aesthetics to advertising to wayfinding and simply engaging fans. Throw in some technological wizardry and these digital panels can respond with content that meets the moment.
"The one thing that we've learned about sports is that people get wrapped up in the passion of it, and it makes people consume things that they ordinarily wouldn't consume," says Martin. "It's impulse buying. So, somebody scores a hat trick, and you start promoting merchandise of that particular player on those screens while the fan is wrapped up in that excitement and passion."
Given the information the system is able to gather about the venue's environment, signage can also serve fans appropriate food and beverage suggestions.
"If the temperature goes below 60 degrees, we want to start promoting hot chocolate," explains Martin. "And if the temperature goes above 80 degrees, maybe we want to start promoting cold beers. So through all these sensors, our system is sophisticated enough to receive those triggers and have the content ready, so that when the sensors are telling me temperatures reached a certain point or a line has reached a certain length, it activates a message to the boards to educate and influence the consumer that's standing in front of it."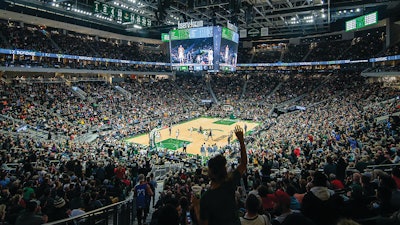 Energy efficiency
Sports and entertainment venues see dramatic spikes in energy usage depending on whether there's an event happening that day or night. Because of this, operators need all the data they can get to manage their venues in an efficient manner. However, it's critical that individual systems — HVAC, lighting, fuel and water, etc. — be integrated.
Chase Center, home of the NBA's Golden State Warriors, partnered with Johnson Controls early in the technology design process to furnish, install and integrate smart building solutions throughout the venue, which opened in 2019. Solutions included a building automation system integrated with the lighting system and the monitoring of all critical power-, water-, fuel-, heat- and smoke-control equipment. The system also includes an integrated security command-and-control center, as well as frictionless access-control solutions and video surveillance.
The end goal of these systems is to provide the perfect environment for fans but also a sustainable one. Chase Center became the first NBA arena to sign the United Nations Framework Convention on Climate Change's Sport for Climate Action Framework to reduce emissions and achieve net-zero by 2040.
Aside from creating a more sustainable venue, these systems also allow operators to better understand energy use as it applies to the fiscal concerns of their businesses. "If I'm having 200 events a year in my stadium, I need to charge those events based upon their energy consumption, and how they're using my footprint," explains Girard. "My building has to be smart enough to measure, slice by slice, the energy consumption and the carbon footprint generated by that specific event so that I can appropriately charge those services or be able to look at it and make sure I'm reducing my carbon footprint over the course of time."
Smarter buildings, smarter cities
As stadiums and arenas increasingly become center points for elaborate place-building within a city, often including shopping, restaurants, housing and hotels, operators are being forced to think beyond the walls of their venue.
Girard points to what the NFL's Packers have done in expanding amenities and services around their stadium, and how the Bucks have approached the Deer District. "They're starting to develop everything around the venue, so stadium operators are saying, 'You know, I need to have a year-round revenue stream. But I also want to make a broader impact on society and the city or the area that I'm in,' " Girard says.
As a result, operators are bringing in technology partners earlier in the design process to ensure that stadium systems can integrate seamlessly with city systems. Given the data collected by a smart stadium or arena, an operator's systems can actually help ease vehicular traffic congestion during an event and help manage parking in the surrounding area. "What you're seeing is this trend to rethink the stadium as just a standalone venue to watch sports. It's more a foundation in the ecosystem of the city in terms of societal and economic impact."