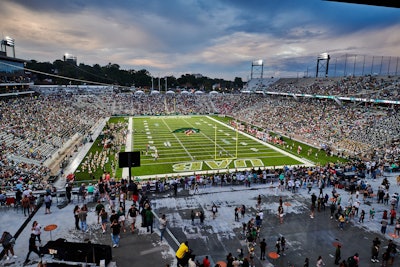 As higher education recovers from the chaos of adapting to the pandemic, here's a look at some of the emerging concerns facing leaders in the athletics space.
Retaining investments in athletes. In modern day college athletics, coaching staffs and administration are worried about retention of student athletes, in whom they have invested so much university funding for high performance athletic facilities, scholarships, room and board, per diem, etc. When there is high turnover among recruits, that investment is neutralized. The key is to attract the athletes that will differentiate your program from another. With the abundance of talented players out there, higher education sports leaders are getting more creative with the recruiting strategies in order to succeed.
State of the art becomes mainstream. In the past, superior facilities were one way that a program could differentiate itself from its competitors for recruitment and retention. These incentives are becoming ever more unique and advanced. The amenities and technology that were once state of the art have become more commonplace.
Spectator preferences are evolving. There are also sweeping changes in the way people prefer to watch sports, with many more options to watch the game remotely with more and better views, oculus glasses, helmet cameras, and AI. Seating in the uppermost sections at an outdoor stadium is less palatable than in the past.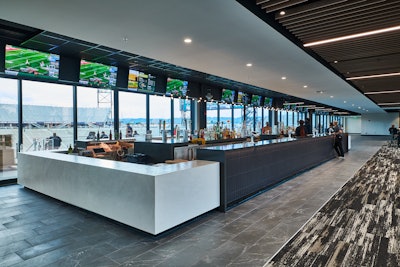 Therefore, stadiums, too, are changing. Stadiums are transforming in response to the changing requirements repositioning toward the professional model with upgraded spaces and amenities. Upper decks and field level zone clubs are being converted into large areas or open platforms that entice people to gather with the sporting event as more of a backdrop to small groups socializing over high-end hospitality.
Optimize your competitive advantage. The key to success is to anticipate trends and to stay one step ahead to win the recruiting game. The urgency of having the best players is still the same as it always has been, but the way to get there is not a linear process. The leaders who push the boundaries to take advantage of the system will be the ones who win. They will use their unique, state-of-the-art facilities and amenities to recruit the athletes with the most potential.
Building State of the Art Facilities at the Cutting-Edge
Conduct procurement planning. Building cutting-edge facilities is not without its share of challenges, especially with today's economic climate of rapid inflation and supply chain disruptions. The process for procurement has dramatically evolved with slowdowns forcing university leaders to purchase materials earlier in the process to ensure they are available when needed. This, in turn, makes early procurement planning critical. Taking on the risk that prices will change between planning and procurement is making budget validation especially challenging.
Let's consider an example. A recent example project ended up 25% over the budget that the project team had estimated only six months prior, singularly due to price escalation. Subcontractors are navigating this by demanding that automatic inflation increases be incorporated into contracts. This makes for an arduous situation for all stakeholders when projects are trying to stay within a budget, but all of the project team members should understand that the price increases are not the fault of the project team.
Accelerate timeframes and address fluctuations. From a project standpoint, this not only means expanding the budget to accommodate excess inventory, but also accelerating timelines and addressing fluctuations in demand. Right now, contractors are budgeting for approximately a 1.5 percent monthly increase, which equates to 18 percent per year. This is an unorthodox situation that puts pressure on all project team stakeholders in terms of planning. Another way this affects projects is that the design team must complete and coordinate submittals more quickly. This accelerated early design can lead to unintended change orders as design changes and coordination tend to be a constant on large athletic projects.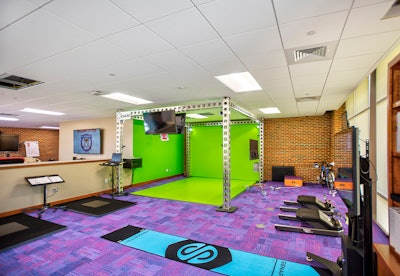 Consider another example. In an example in the southcentral US, the project team is 14 months into a 17-month-long construction project of a new Football Performance Center. The project team did their due diligence to procure all the necessary materials early but had the challenge of finding space to store all that material, protect it, insure it, and guarantee that it is still there when the contractors are ready for it. Early procurement and providing secure storage are additional costs the project budget must bear. With equipment like generators carrying a 14-month lead time, no aspect of the planning can be ignored.
Leaders weigh all options. Higher education sports leaders understand the volatile environment and the risks involved with quoting projects. Sometimes, it's even advisable to put projects on hold in the hope that things will settle down—which means half-built projects and construction supplies that need to be stored in the meantime.
Today's Athletic Facilities: Efficiency, Technology + Spectator Considerations
Maximize efficiency. Using facilities to recruit is a longstanding tradition but today's facilities must be as efficient as they once were opulent. To make them as efficient as possible, designers need to understand everyone's schedule and how they will move through the buildings, so they can lay out spaces in a linear way to prevent backtracking.
Incorporate the latest technology. There is also a need to incorporate the very latest technology before others do and/or it becomes obsolete or is replaced with something better. Today, GPS tracking is used, with sensors placed around the field that log data about the players' movements. This allows players and coaches to track and analyze numerical data, and review slow-motion films of all the plays later to improve future performance. Sensors not only track each movement, but also energy expenditure and force delivered upon impact. Technology can be incorporated in all aspects of recovery and training to monitor an athlete's performance over time. The availability of staff to quickly access / review the data and provide required modifications to the physical and technical performance will mean improvements based on technology.
Body scanning technology allows all equipment—especially helmets—to be custom-fitted for each player and their body measurements can be used for data analysis. With RFID technology and electronic graphics, scanners can sense a recruit walking into the door of a facility, identify who it is, and have a highlight reel and personal welcome from the coach appear on a screen within seconds. More practically, RFID can be used to track and inventory equipment and other supplies, which saves time searching for lost equipment. This technology is especially important as the size of equipment rooms / storage increases and the number of staff increases.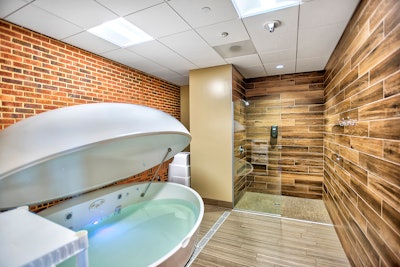 Advance team culture with today's locker room zone design. In the spirit of offering something unique and creative, there is a movement afoot to reconfigure the idea of what a locker room should be. In today's locker room design, leaders are incorporating several zones. Upon entering the locker room, athletes find an initial zone at the entrance where the players can remove all the used uniforms, pads, and helmets. The sports equipment (which can be odorous) is stored away in this zone, and away from the second zone of the locker room design which functions more like a living room/gathering area where players experience team culture. Separating these areas eliminates the sweaty locker room odors and all the associated germs. This could be a difference-maker to a potential recruit (or his guardian).
Return to multi-purpose. Stadiums that have been huge, standalone enterprises for half a century are now shifting back to the old model of being multi-purpose buildings whose use is optimized year-round – 50 to 60 years ago, stadiums had additional space that could be used as classrooms or dorms. Now they are moving toward the NFL model of having restaurants and retail at various places inside the stadium so that they are no longer huge facilities occupying space on campus that are only used nine times each year. Generating revenue is important and capturing more efficiency in the design will increase the revenue per square foot.
Insight
In addition to all the volatility in the construction market these days, universities also have to contend with the challenges of recruitment and retention, a changing fan base, and unique issues like NFL contracts and NIL (name, image, likeness). There are compliance and staffing issues that require additional space for personnel and the need to dedicate time, facilities, and space to make sure athletes not only come, but stay. There is a saying in college athletics that you need to spend as much energy recruiting your own people as you do on recruiting new ones to make sure you have (and keep) quality athletes. Having the latest, greatest infrastructure means holding the top position longer as others catch up.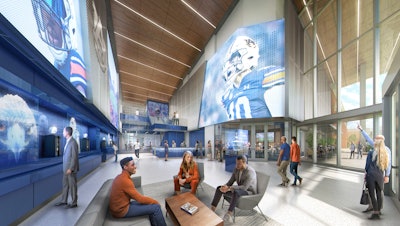 In all construction projects, the market volatility is dictating the terms. There is more pressure on design teams during the construction phase because the timeline for reviewing submittals has been accelerated to accommodate early procurement and delayed shipment of materials. Decision making, design, and procurement efforts are frontloaded as much as possible to combat long lead times and market instability, making the inevitable late-stage change requests even more challenging. Decisions made during design to mitigate late-stage changes or provide future flexibility can add additional scope and budget to projects. Early onset stakeholder discussion of these challenges can ensure that all parties understand these challenges as the project progresses.
Resiliency in the face of constant change is essential for leaders and teams to keep their heads in this environment and remain creative enough to innovate the solutions for the future that will keep athletics programs thriving while navigating the drivers and solutions in college athletic facilities today.
Yann Cowart is vice president - Sports Architecture with Goodwyn, Mills and Cawood (GMC) and can be reached at yann.cowart@gmcnetwork.com.