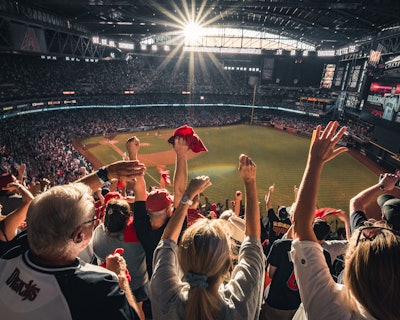 Going to the game might be good for you, according to a new study that found that people who attended live sporting events reported lower levels of loneliness and higher levels of life satisfaction than those who did not.
The study was conducted by Anglia Ruskin University in Cambridge, England, and published in Frontiers in Public Health.
As reported by Sports Illustrated, researchers surveyed 7,249 people in England as to their wellbeing and their in-person sports viewing habits, ranging from residents as young as 16 to those as old as 85.
They concluded that "(live sporting event) attendance has positive associations with some aspects of subjective wellbeing... above and beyond demographic predictors."
"The live events covered by the survey ranged from free amateur events, such as watching village sports teams, right through to Premier League football matches," Dr. Helen Keyes, the study's lead author, said in a news release, as reported by Patrick Andres of SI. "We do know that watching live sport of all types provides many opportunities for social interaction and this helps to forge group identity and belonging, which in turn mitigates loneliness and boosts levels of wellbeing."
While stressing that further research is necessary, the study's authors expressed a belief that sports could become a helpful health tool in an age of isolation.
"Our findings could be useful for shaping future public health strategies, such as offering reduced ticket prices for certain groups," Keyes said, according to SI.