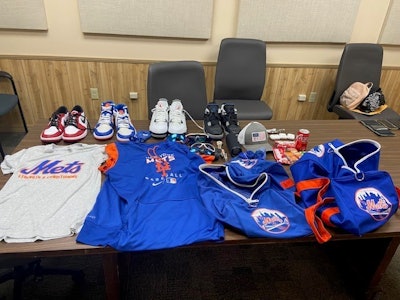 Courtesy of St. Lucie County Sheriff's Office
Authorities said Wednesday that two teenagers used a baseball bat to break into Clover Park and take thousands of dollars worth of New York Mets merchandise last weekend.
St. Lucie County Sheriff's Office said that a 17-year-old boy and 15-year-old girl were arrested in connection with the burglary early Saturday that included about $11,000 worth of stolen property.
The break-in occurred at the spring training facility for the New York Mets and home stadium of the St. Lucie Mets.
The teens are charged with burglary, grand theft and dealing in stolen property.
"After investigating this incident, we have determined that the suspects broke into the facility around 2 a.m. Once inside, they removed several items, including sneakers, sunglasses, electronics, Mets branded attire and snacks," Sheriff Ken Mascara said in a news release. "Thankfully, all of the stolen items were recovered."
Mascara said the teens were at the facility for about two hours, and left Clover Park at 4:49 a.m.
An employee arrived at the park about 7 a.m. and found the glass on the entrance door had been broken.
WFLX-TV reported that surveillance video was obtained in the investigation.