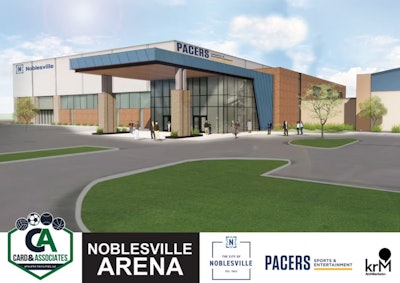 Courtesy of Pacers Sports & Entertainment and NBA.com
The Indianapolis-based NBA G League team has announced plans to relocate cities in the state plus a new stadium to accommodate the move.
The City of Noblesville and Pacers Sports & Entertainment said Monday they would move the team known as the Mad Ants about 100 miles south from Fort Wayne to a new home in Noblesville, where the team will rebrand before the start of the 2024-2025 season.
WXIN-TV reported Tuesday that the Noblesville Common Council unanimously approved the public-private partnership agreement with Pacers Sports & Entertainment.
In the interim, the Mad Ants will play home games at Gainbridge Fieldhouse in Indianapolis next season, then move to Noblesville with a new nickname and mascot, which will be revealed later.
Noblesville said the new $36.5 million arena will be a 3,400-seat, 85,000-square-foot facility on the east side of the city, according to the news release. The 10-year partnership agreement includes $5 million in cash investment from PS&E, which will also lead an effort to secure another $5 million in naming rights and signage over those 10 years.
City and team officials are working with local partners and plan to build the arena at Finch Creek Park near the Mojo Up Sports Complex, which generates nearly 1 million visits per year, according to the release. The city of Noblesville expects to draw 65,000 fans annually just for games, which is already the second most visited area in Hamilton County for sports visitors.
"We are working with the Pacers and other partners on programming options for the arena on days it is not used by the Pacers. The facility would be available for events like IHSAA tournaments and competitions, concerts, conferences, corporate events and graduations," Mayor Chris Jensen said. "Further steps are being taken to finalize development and programming partners, which may also incorporate additional project features and recreational amenities."
The G League features 30 teams, 28 of which have one-to-one affiliations with NBA franchises.
When the new mascot for the Noblesville-based team is unveiled, the Mad Ants name, which has a special tie to Fort Wayne, will be retired.