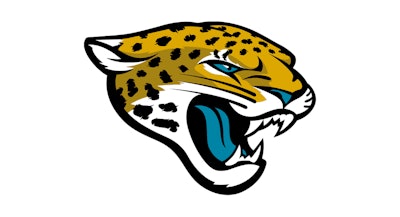 The Jacksonville Jaguars held the first of 14 community listening events Monday, but it was the team's leadership that made one thing clear: stadium renovations must include a surrounding entertainment district.
"If it's just a stadium I don't see a path to getting it done," Jaguars owner Mark Lamping said, as reported by WOKV news radio in Jacksonville.
The so-called Huddle Up Jax event was held at Strings Sports Brewery. Thirteen more events will take place at varying sites starting tonight and ending June 22.
"When we finish this public process in 10 days, we'll have a better plan than we have today," Lamping said Monday.
Renderings released last week show the team's vision for a "Stadium of the Future."
Related: 11 Renderings: Jaguars Reveal 'Stadium of the Future' Plans
According to WOKV, a revamped stadium and new entertainment district are estimated to cost $1.75 to $2 billion, with taxpayers picking up half the cost.
Last week, City Council president-designate Ron Salem (R-Group 2 At-Large) indicated he was surprised to see the additional projects tied in with the stadium. "That's a tall ask for us," Salem said in and interview June 8, the day after the team released renderings for the project, designed by HOK.
Jags owner Shad Khan said he's hopeful the council will warm up to the entertainment district. "One plus one equals five, and this should be something that's a multiplier effect, and it's got to be great for the city or it makes no sense," Khan said.
WOKV's Jake Stofan reported that Patrick Carney is one Jags fan who is optimistic the entertainment district could become part of the sales pitch to taxpayers currently on the fence, saying it's only a tough sell if "you're not looking what it can do for Jacksonville for the long term."
"If you're going to do this, let's build something that's iconic," another Jags fan, Mathew Parks, told WOKV. "Let's build something that we're all proud of at the end of the day."
Mayor-elect Donna Deegan is asking for $2 million in the upcoming budget to help negotiate a deal.