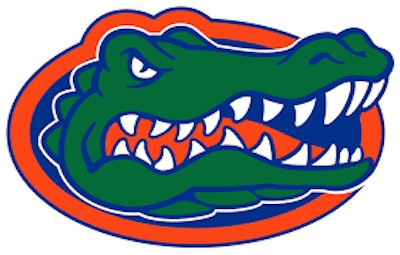 The University of Florida this week unveiled plans for a $400 million makeover of the school's football stadium. The Gators described the plans as a "multigenerational solution" for the aging Ben Hill Griffin Stadium.
The school plans to hire an architect in effort to transform the game-day experience for fans, while maintaining some of the stadium's elements that have given the Gators a home-field advantage in the competitive Southeastern Conference.
While the architectural team will deliver the specifics, the project will touch every phase of the fan experience. From upgrades to the concourse, entry gates, seating, concessions and restrooms to enhancements to video board and sound system, there will be a focus on maintaining the nearly century-long romance Gator fans have with Saturdays in the Swamp.
"Whatever work we do there doesn't need to be a Band-Aid," athletic director Scott Stricklin said at the league's spring meetings last month, according to the Associated Press. "It needs to be a multigenerational solution to continue to give that stadium for future generations a chance to come and watch the Gators there.
"It has to be everything from how fans experience when they're outside the stadium, when they walk through the gate, concourse, concession, restrooms, inside the seating bowl, new premium options, better premium options. But you also want to keep what's special about it."
The Swamp first opened in 1930 as a 22,000-seat facility and has been expanded several times since. It now has a capacity of roughly 90,000.
"We're in the service business; we don't make widgets," Stricklin said. "We create experiences, whether it's for our student-athletes, our staff and ultimately for Gator Nation. So when you are in the service business, there's not a lot of tangible results. It's a lot of intangible results.
"It's what kind of experience are you creating on game day? What kind of memories are coming from those experiences? Do people want to plan their lives around coming back to enjoy that experience again? We sell tickets and we sell T-shirts. Beyond that, it's we want to create experiences — and winning is a big part of that experience — but you've got to have all the other pieces."