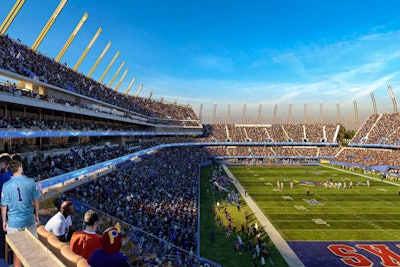 The University of Kansas athletic department on Tuesday released its most detailed renderings yet of plans to overhaul David Booth Kansas Memorial Stadium and the surrounding area.
KU set an initial fundraising goal of $300 million for the football stadium renovations, as well as improvements at Allen Fieldhouse. An information sheet circulated at Tuesday's press conference indicated that $165 million had already been secured toward that total — though "additional support will be needed in order to fulfill the full vision."
"The cumulative impact of a world-class football operations complex and one of the finest game-day venues in the country catapults Kansas Football, and our entire athletics program, into this critical next chapter," director of athletics Travis Goff said in a statement, as reported by The Lawrence Times.
"We have a proud history, but this unprecedented investment makes a powerful statement about an even brighter future and provides far-reaching impact for our university community, fans and football program."
Upgrades to David Booth Kansas Memorial Stadium were designed to provide "an unprecedented fan experience," KU said Tuesday.
According to Conner Mitchell of The Lawrence Times, seating in the north bowl will be 4 feet higher off the ground to improve sight lines. There will also be chairback seating in the west and north seating areas, as well as a new video board that is more than twice as large and 60 feet closer to the field than the current video board.
KU is also planning on a 50 percent increase in area-per-seat and 50 percent more leg room throughout the stadium. There will also be approximately 2,300 club seats in three different club spaces, and suites will be 80 feet closer to the field.
In the concourse area, there will be four times as many food and beverage offerings, and at least one and a half times the number of restrooms, the university said.
Goff said in a press conference Tuesday that improvements to WiFi in the stadium will be a key priority, but likely won't be implemented until the 2025 season due to the ongoing construction.
Construction on the first phase of the so-called Gateway District project — which includes additional renovations to and expanding the Anderson Family Football Complex, constructing new southwest, west and north sides of the football stadium, as well as a new conference center — will be completed in a phased approach, Mitchell reported.
Work will begin in December and will be completed by the beginning of the 2025 football season.
The Jayhawks will continue playing football at their home stadium during construction, though capacity will be reduced to a yet-undetermined degree during the 2024 season.
Further phases of the project will focus on the south and east portions of the stadium, as well as developing space for dining, retail, offices and lodging.