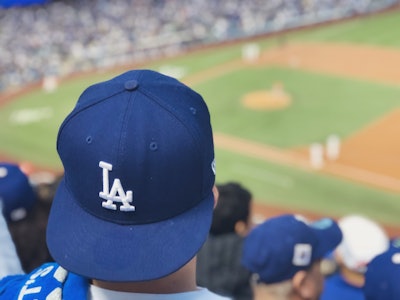 Mat Weller, Unsplash
Correction: The embedded video in this article of a flooded Dodger Stadium turned out to be a fake.
Hurricane Hilary made a mess of professional baseball schedules in Southern California over the weekend.
The Los Angeles Dodgers, Los Angeles Angels and San Diego Padres all packed their scheduled Sunday games into split Saturday doubleheaders. The hope was to have all the baseball that needed to be played in Southern California this weekend over before Hilary arrived.
The Dodgers played the Marlins at noon and 6 p.m. on Saturday, and the Angels played the Rays at 1 and 6. The San Diego Padres also moved Sunday's home game against the Arizona Diamondbacks to a Saturday split doubleheader, with games beginning at noon and 5:30 in Petco Park.
"This is crazy," Dodgers manager Dave Roberts said before Friday night's series opener, according to the Los Angeles Times. "I mean, a hurricane, in Southern California? That's unprecedented, clearly … but I'm very grateful they were proactive. It's going to be an inconvenience for some people that have Sunday tickets, but to get ahead of it made sense to me."
No tropical storm has made landfall in Southern California since Sept. 25, 1939, according to the National Weather Service.
It turns out all the rescheduling was a good thing, as heavy rains — as much as half a year's worth of average rainfall — drenched the region, from coast to inland desert, in a matter of 24 hours.
By Monday morning, Hilary had been downgraded to a tropical storm, but it's rains are expected to cause widespread flooding in the area.