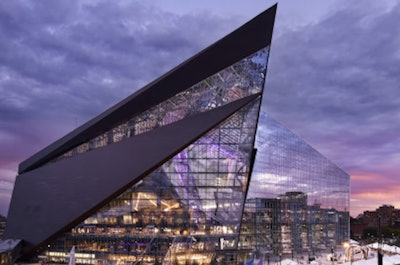 Populous
The second phase of a new security perimeter at the Minnesota Vikings' U.S. Bank Stadium could cost more than expected and taxpayers are expected to foot the bill.
According to the Star Tribune, architectural firm Populous will develop a better estimate for the project in the coming weeks. The initial estimate had been $48 million for entire project.
The new perimeter is intended to keep spectators safe from an external attack while they're inside the stadium. The Minnesota Sports Facilities Authority has signed off on a $347,000 contract with Populous to design the next phase of the project.
MSFA chair Michael Vekich said Populous will provide two or three designs for the next phase, which will allow for a better idea of the total cost. MSFA will then ask governor Tim Walz and legislature to set aside the money in 2024, either in cash or in bonds.
Once complete, the perimeter will lift the stadium's security level to K12 under Department of State anti-terrorism threat levels. The standard means the perimeter can stop a 15,000-pound vehicle traveling at 50 miles per hour, protecting the more than 60,000 fans inside during Vikings games.
The second phase spending will be on top of the $15.7 million spent on the first phase, which included an 8-foot black fence that can't be climbed to replace a gray chain-link fence that has been used for year. The first phase also included cables, gates, crash-prevention bollards and in-ground wedge barriers to stop vehicles from entering.