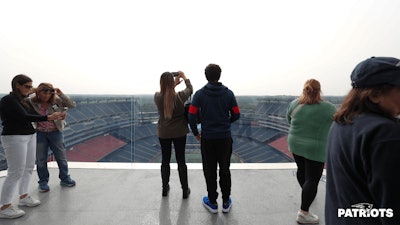 New England Patriots
The New England Patriots have opened the Lighthouse at Gillette Stadium, a 360-degree observation deck where fans can get a bird's-eye view of the Patriots' home field.
As of Sunday, Oct. 1, the new Lighthouse at Gillette Stadium is open to the public for all to enjoy its 360-degree observation deck with panoramic views of the stadium and surrounding area.
"The Lighthouse at Gillette Stadium was reimagined as part of the north end renovation to bring an iconic feature to the stadium and Patriot Place that families could enjoy year-round," said Jen Ferron, chief marketing officer of Kraft Sports + Entertainment. "It is a unique experience that will surprise everyone who visits! The lookout is much higher than you'd expect, and the views are spectacular!"
According to an announcement from the team, the "lookout" atop the Lighthouse will remain open 12 months out of the year for fans of all ages and abilities to enjoy the experience, with access provided by an elevator to the top of the 218-foot structure.
Standing more than 22 stories above the playing field, it serves as the tallest non-traditional lighthouse in the country and a new symbol of the region at New England Patriots and Revolution games.
Tickets can be purchased in the lobby of the lighthouse. Admission is $5 for adults, with free entry for children 10 and under. Gillette Stadium will also offer the top-level Lantern Room, as well as the Lookout observation deck, as options for hospitality clients looking to book a unique space for functions.