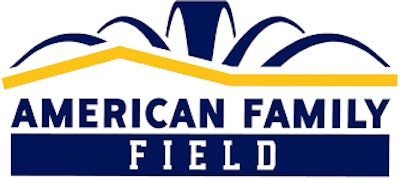 The Wisconsin Legislature's finance committee has voted 15-1 in favor of a Republican-led plan to scale back the state's contribution toward repairs on Milwaukee's American Family Field by imposting a surcharge on tickets to non-baseball events.
Committee approval sets up a floor vote in the Senate as early as next week for the plan that would total about $517 million in state money for the stadium upgrades, according to The Associated Press.
The Brewers contend that their 22-year-old stadium needs extensive repairs, including to the stadium's glass outfield doors, seats, concourses, luxury suites and video scoreboard. The stadium's signature retractable roof, fire suppression systems, parking lots, elevators and escalators need work as well, according to the team.
During early discussions of the plan, Brewers officials hinted they might leave Milwaukee if they didn't get public dollars for the repairs. Rick Schlesinger, the Brewers' president of business operations, appeared to walk that back at a Senate hearing last month, saying the team wants to remain in the city "for the next generation," the AP reported.
The state Assembly last month approved a plan that calls for the state to contribute $411.5 million and the city of Milwaukee and Milwaukee County to contribute a combined $135 million. The Brewers would contribute $100 million to repairs and extend their lease at the stadium through 2050 in exchange for the public funds. The lease extension would keep Major League Baseball in its smallest market for another 27 years.
Sen. Dan Feyen released an amendment Tuesday to the Assembly plan that would reduce the state's contribution to $382.3 million, down $29.2 million from the Assembly proposal, according to an analysis by the nonpartisan Legislative Fiscal Bureau.
The amendment would impose a $2 ticket surcharge on non-baseball events such as concerts or monster truck shows. Suite users would face an $8 ticket surcharge for non-baseball events. The surcharge is projected to generate $14.1 million for stadium improvements over the next 27 years, according to the fiscal bureau. The team's rent payments would also increase by $10 million between 2024 and 2050.
The amendment further calls for a biennial financial audit of the stadium district that administers public funding for American Family Field through 2050.
The Brewers' Schlesinger said in a statement that the team supports the amendment, saying it helps keep MLB games affordable for Wisconsin families.
Senate approval of the amendment would send the bill back to the Assembly. Both houses must pass an identical version of the legislation before it can go to Democratic Gov. Tony Evers, who can sign it into law or veto it.