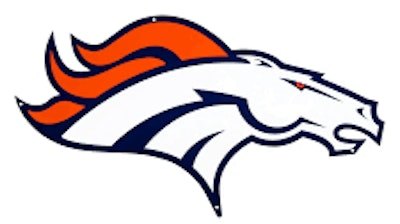 For the second time in as many years, the Denver Broncos have replaced the entire playing surface at Empower Field at Mile High midseason.
As reported Thursday by Denver NBC affilate KUSA, the Walton-Penner Family Ownership Group threw $250,000 down on field repairs for the second half of the Broncos season.
Denver's bye week was followed by a game Monday night in Buffalo. While the Broncos were away from home, team ownership had a new field installed over an eight-hour period Nov. 6.
The field was in good condition at the time of replacement, despite enduring Denver's preseason schedule, first-half regular-season schedule and an Air Force football game. Still, according to KUSA's Mike Klis, ownership had decided in August that it made sense to make the midseason field change this week.
The new field is 64,000 square feet of 100 percent Kentucky bluerass. It took 13 big rigs to move the new grass into Denver from Platteville, Colo.
Last year, the Broncos replaced the field before the season's final game at a cost of $400,000.
"And Denver is expected to replace the field yet again before next season," wrote Denver Sports analyst Jake Shapiro. "The $625,000 already spent on fields in the past 12 months may look like an accounting error to the Walton-Penner group, who are the richest owners in the NFL. They've thrown $100 million into stadium upgrades and another $175 million is earmarked for a new team facility in Dove Valley.
"Maybe a future investment will come in some high-tech operation to keep the grass in better shape rather than replacing it altogether. The Milwaukee Brewers have a cannabis-inspired operation under their dome, but even the Arizona Cardinals' moveable field has turned into failure with the Super Bowl having an embarrassing moment. The best route for now might just be shelling out for player safety and throwing down new carpet periodically."
As reorted by Shapiro, the Broncos are playing on the new grass for their next two games before embarking on a three-game road trip. The team could make the playoffs, meaning the new field will have to last into January.