Sports Management Grads Compete for Coveted Openings in Front Offices and Behind the Scenes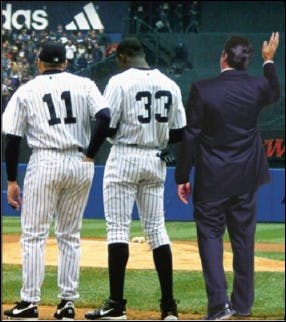 A long time ago, amid the exuberance and ignorance of youth, your concept of the dream job may well have involved standing before a locker with your nameplate on it, pulling on a uniform and walking cleatfooted through a concrete tunnel and into the blast of bright sunshine and crowd roar that accompanies a playing career in professional sports.
You grew older and wiser, though, and despite your earnest ascent through the developmental echelons of high school or even college athletics, you awoke to the reality that no pro scout had your number, and that your ultimate calling would not involve collecting a small fortune for playing a kids' game.
You are not alone. According to the NCAA, roughly 11 out of every 100 senior collegiate baseball players are drafted to play professionally, with no guarantee of sticking with a major league team through training camp. In men's basketball, the rise to the uppermost pro ranks involves only 1.3 percent of senior players; women's basketball, 1 percent. The chances of men's soccer, football and men's hockey seniors one day playing for pay at the highest levels in their sports stands at 1.9, 2 and 4.1 percent, respectively.
Perhaps, recognizing early on that your physical abilities afield were grounded more in fantasy than reality, your dream all along was to don a business suit and dress shoes and stride past the locker-room door along a carpeted corridor to the front office, where you would slip behind a desk with your nameplate on it. Your passion for sports tempered only slightly by your aborted playing days, you figured to settle into a comfortable, if not cushy, career in sports management.
Well, maybe - someday. Are you first willing to accept a job that involves a cubicle and a polo shirt with your nametag pinned to it? How does the anonymity of the mascot's costume grab you?
Truth is, like the players who vie for positions on the field, individuals aspiring to sports careers face fierce competition in the marketplace and long odds on making it to the big time. What's more, students graduating with the increasingly popular master's degree in sports management are likely to earn (if they're lucky) only half as much in starting salary as MBA holders who choose more traditional business avenues. Sports-related internships, viewed as absolutely necessary to getting a foot in the industry door, often pay nothing at all. Yet, despite all this, there exists no shortage of fascination with sports management as a career focus among men and women alike. (See "Inching Toward Equality," p. 70.) Why else would the number of colleges and universities offering sports management degrees have doubled (by most experts' estimates) to more than 200 over the past 10 years? But whether the pool of college-educated sports-career applicants is overflowing unnecessarily or simply filling employment voids created by the recent explosion of sports in America depends on whom you ask. Still, at least one thing is clear: A lasting career in sports requires more than a mere love of the game.
"Watching fourth and one at the goal line or bottom of the ninth with the score tied and your number-four hitter at bat is great for the fans, but the people working for the organization down in the bowels of the stadium trying to get the ticket report to balance are vaguely hearing the roar of the crowd," says Andy Kreutzer, graduate and current coordinator of Ohio University's sports administration and facility management program. "Individuals need some evidence that their interest in this career is grounded in experience, that their involvement is more than just a glamour fascination, because that wears off very quickly. It is a job."
"There's a very glamorous perception of what sports is, and it's up to the programs to knock that perception out of there," adds Bill Sutton, graduate coordinator of the sports management program at the University of Massachusetts at Amherst. "Sports is sales, it's marketing, it's accounting, it's finance. There is a lot of allure to it and a lot of fun doing it, but it is still a business."
If sports seems like it's getting more businesslike by the minute, it's our own fault. Americans have an insatiable appetite for this stuff. Consider that in 1960 there were 300 hours of sports programming televised during the entire year; "Game of the Week" meant just that. Today, counting regional sports channels and multilingual broadcasts, as much cumulative airtime is devoted to sports on a daily basis. "That, to me, is the single-most visible indicator of the growth and change in the sports market," says Kreutzer.
TV exposure notwithstanding, just how big has the industry at large become? Definitive numbers are slippery, but an oft-cited study published in December 1999 by Street & Smith's Sports Business Journal estimated that, at the time, sports represented a $213 billion industry, seventh-largest in the United States, lapping the U.S. auto industry three times over. It's no surprise, then, that new sports leagues, franchises, broadcast networks and marketing firms have formed at a frenetic pace to claim a piece of the pie. Of course, corporate America has dipped its finger, too. "Sports sponsorship has grown at an average rate of 15 percent a year every year for the past 15 years," says Rick Burton, director of the James H. Warsaw Sports Marketing Center in the University of Oregon's College of Business. "There are now more than 60 companies that spend more than $10 million a year on sports sponsorship."
The influx of money has dictated more sophisticated operation of sports organizations and, consequently, larger payrolls - good news to those who aspire to a career in the sports industry.
"There was a time when you rolled up the ticket window, and people bought tickets and came in," Burton says. "But with the advent of the many different media forms, with the increases in player salaries and the amount of debt that's been taken on to build new stadiums, the financial, economic, marketing and management components of the sports industry have really become comprehensive and complex."
This paradigm shift is evident in how the sports leaders of tomorrow are trained in 2001, according to Ann Mayo, director of the sports management program at Seton Hall University. "The nature of the business has changed dramatically in the past decade," she says. "We saw the business become much more about business skill. We saw the standard programs that were always offered in health, physical education and recreation sending their students over to the business school to take courses."
Many sports management programs, including Mayo's, are now housed within schools of business and offer MBAs in sports management. Jim Riordan, director of Florida Atlantic University's sports management program, which prides itself on offering an Assembly of American Collegiate Schools of Business-accredited MBA, says he was the exception to the rule back in the mid1980s, when he pursued an MBA in executive management with an eye on a lifelong career in sports. "A lot of the schools that started sports management programs still have them housed in physical education departments, sports medicine and kinesiology departments, and they call it sports management," says Riordan, who broke into the business at 16 as an usher at New York's Shea Stadium and Madison Square Garden. "My feeling is that if you want to be the vice president of marketing for the New York Yankees, why do you need to know how many bones there are in the human foot?"
Says Gil Fried, associate professor of sports management in the University of New Haven School of Business, "We had more than 120 applicants for our undergraduate program this year - a significant increase over years past. I think students are realizing that if they're in a P.E.-based program and they don't get a job in sports management, what are they trained to do. Teach P.E. That might be it."
Proponents of business-based degrees in sports management argue that this approach gives graduates enough practical training to turn to Plan B if a sports career doesn't pan out. Sutton speaks of a sports management major at UMass (which offers a joint-MBA program with its business school) who took a position at PepsiCo Inc. completely unrelated to sports. When the stock market was hot, others found work on Wall Street. Says Mayo, "I talk to a lot of parents, and I really do believe that the thing that sells parents on our program is that it is a business degree. At least they see for their son or daughter a fallback position. I see some of my students crossing back over into mainstream business because the money's better for their first entry-level job."
Still, some sports management programs have their reasons for maintaining complete autonomy. At Slippery Rock University, for example, the popularity of sports management as a field of study eclipses that of straight business, and a proposed merger of the two disciplines under one roof seemed like a one-sided deal to sports management coordinator Rob Ammon. In addition, he says, business school affiliation would have required students to take "a bunch of classes that I did not think were relevant to what our students' needs are when they get into the real world. Students need to have some basics in accounting, but they don't need to have two full semesters of it."
Likewise, the University of Dayton's sports management program is not housed within the business school. "Not that I have a problem with it being in business," says assistant sports management professor Peter Titlebaum. "I just think there are certain things that you could potentially lose by having it in business, or by not having a collaborative. Do you want somebody who's straight business making a decision on synthetic turf? There is some argument to having some educational component on the physical side that's important for a sports business person to know."
Conversely, business schools are sometimes reluctant to launch sports management programs or absorb existing ones, since many business schools are ranked based on their graduates' starting salaries, which for sports management majors may average out to a modest $30,000. "The sports industry has been so used to being able to hire anyone for any price," says Burton. "There's that perception that it would be so exciting to work in the sports industry, and salaries are artificially deflated."
No educational path to a sports management career is foolproof, and graduates receive no employment guarantees. "I don't think anyone is ever going to say, 'I can promise you a job.' I never do," Riordan says. "I can say, 'I'll never stop working for you, if you do the right things.' "
By all accounts, the right things involve a willingness while in school to build a résumé no matter what it takes - from volunteering at a one-day NHL-sponsored street hockey tournament to completing an eight-month, $1,100-a-month internship at Disney's Wide World of Sports. Riordan had one student who shunned all internship opportunities in the interest of achieving a 4.0 grade-point average, a strategy that ultimately cost that student a full-time job to a classmate with a 3.2 GPA and a résumé packed with practical experience. "It's really the dues you have to pay," Riordan says.
"I have students with five or six internships on their résumé by the time they graduate," says Mayo. "They want to work that hard to get into the business. They want to get out there and network."
In the sports industry, who you know has always been as important as what you know, and while those scales may be tipping more toward formal education these days, networking is still an important component of the placement process. "The majority of jobs aren't even posted," says Sutton. "It's based on relationships - who you know, who knows you and who knows your program."
Adds Howie Davis, director of internships for the UMass sports management program, "When I first started here in '93, I would be notified about a full-time position maybe once every other month. Now, through our alumni network and the fact that we're well-known nationally, I can get three or four calls a week regarding full-time positions - some entry-level, some big-time."
Well before graduation, students discover that the breadth of management positions in today's sports-crazed economy is nothing short of mind-boggling. Take a typical Division I college athletic department. In addition to the position of athletic director, separate full-time associate and assistant AD posts now encompass the management of human resources, external relations, facilities, academic services, budget and finance, summer sports camps, media relations, compliance, tickets, major gifts, broadcasting, event management, promotions, development and marketing. A few categories may even require more than one employee, and all require special skills. "It's really not about being a jock anymore," Mayo says. "It's not about being a good ol' boy, and it's not about being just an athletic director. It's really about being a businessperson."
Along with athletic departments, today's graduates are being placed with professional franchises, league offices, regional sports commissions and national governing bodies. They are finding jobs in sports marketing firms or as sports marketing specialists with major corporations. (See "Selling Sports," p. 68.) They also may catch on with facility management companies, refining a variety of skills applicable not only to stadiums and arenas, but to university buildings, correctional facilities and hospitals. "That, I think, is the biggest growth area right now," says Fried. "You could work for a pro team such as the minor-league hockey New Haven Knights, and you might be paid $20,000. But if you're working for the New Haven Coliseum and SMG, which manages the facility, you have the Knights as tenants, and you might deal with some of their issues and be in the sports environment, but you might be earning $10,000 to $15,000 more per year."
Eventually, some of the more entrepreneurial sports management graduates may establish their own sports marketing or sports tourism companies, or launch a sports-related Internet venture. "I always tell students that the other part of this business that I think has amazing growth potential is the entrepreneurial side," says Mayo. "If you have an idea and you want to run with it, I really do believe that the sports industry provides a lot of opportunities."
Some students are now seeking doctoral degrees that emphasize sports management, most often with the intention of teaching the subject themselves. "There is a drastic shortage of sports administration professors, and there exist great opportunities for individuals who can teach the discipline," says Herb Appenzeller, founder of the undergraduate sports administration program at Guilford College, who came out of retirement this year to join the sports administration faculty at Appalachian State University.
In addition to its rapid growth, the evolution of sports has created job opportunities unheard of 25 years ago. Rare is the stadium built today that doesn't include private suites. Consequently, payrolls must now include someone who coordinates the leasing of those suites, as well as someone to coordinate the care of those who occupy them. "They're not fans anymore; they're guests," says Ammon. "You're treating them as you would treat someone in your home. That's why there are more openings for sports managers, because you need people in concessions, you need people in guest services and you need people who are dealing with crowd management."
Titlebaum points to another example of sports evolution creating a sports management career niche: salary caps. A student once expressed a desire to work in the NFL. Titlebaum asked the student, "Why does the NFL need you?" "Well, I like football," the student responded. "No, what problem do they have?" the professor pressed, before providing the answer. "The cap. The salary cap is one of the few things that if you really understand it, you will have a niche." Having spent months poring over reams of cap specifics, the former student currently serves as the cap specialist for the Pittsburgh Steelers - one of only two non-lawyers in the NFL to hold such a title. "I don't think it's hard to get a job in sports," says Titlebaum. "If you can solve a problem, you will have a job. You've got to look for your fit. You can't just say, 'I want to do this.' You've got to say, 'Well, why do they need me?' It's not hard, if you're willing to apply that principle."
Amid such success stories, however, are scattered tales that reveal a cold side to the sports industry. A former student of Fried's landed a job with a professional football team, but after accepting more responsibility each year for six years, he sought his first raise and was promptly replaced. One former student of Kreutzer's logged half a dozen years with an NBA franchise, all the while barely making ends meet. When relaying his thoughts about scrapping pro basketball in favor of a career in public relations to friends attending a game one night, the friends agreed, including three individuals who later asked the troubled employee if he would pass along their résumés in the hope of one day filling his pending vacancy.
"You think, 'Darn, it's terrible, but there are 100 people standing behind me who would like to do it,' " says Kreutzer.
Exacerbating this dynamic even further, one could argue, are the very sports management programs flooding the applicant pool with eager trainees semester after semester. It begs the question as to whether the sports job market has become oversaturated.
"That's been asked for 15 years," Kreutzer says. "Should we be starting new programs when there are current programs whose graduates aren't finding the jobs and the careers they want?"
"Some of these programs are really huge, especially at the undergraduate level," says Mayo. "They're running rather large numbers through these programs, and my big concern is what happens to all these kids."
When asked for their placement rates, most sports management programs, large or small, quote a number that falls somewhere between 75 and 90 percent, and the rate may be as high as 95 percent for graduate students. A recently completed five-year survey of Slippery Rock's sports management alumni found that 75 percent of respondents were still employed in sports. The seemingly scant amount of attrition evident in these figures, the programs claim, can be chalked up to students who put off a career to continue their studies at the next level, students who aren't willing to accept a job that involves relocation or those who don't find sports-related work right away (one school's database reveals that starting dates for sports jobs may lag as much as six to nine months behind graduation).
But even as the University of New Haven prepared to roll out its new master's program in sports management earlier this year, it found evidence of job-market saturation in the discipline-rich Northeast. UNH analyzed sports management programs in Pennsylvania, New York, Connecticut, Massachusetts, New Hampshire and Vermont, and found that "there are 3,000 undergraduate students right now in the Northeast from the programs in our area that responded to our survey - 3,000," says Fried. When asked if there is any possible way that the sports industry can support that many career hopefuls, Fried says no.
"I do not feel there are a sufficient number of jobs to accommodate people who want to get into sports, especially at the pro level," he adds. "Everyone wants to work in pro sports, and that's one thing we don't promote here. I feel it's unconscionable for a faculty member to tell kids who are coming in, 'We'll get you a job in the sports industry,' when if they can, in fact, get them a job, it's going to be working 60 hours a week earning $20,000 a year. That's not why someone goes to college. If they love their degree, fine, but they have to pay the bills."
According to a 1999 study of UNH graduates, 40 percent of those holding business degrees with a sports management concentration have taken jobs in other industries.
Will a demand for individuals with education and experience in sports management always be there? Will sports continue to grow? Will it plateau? Or, in these suddenly uncertain economic times, will the mad rush to foist more sports, sports properties and offshoot enterprises on consumers peter out?
"I thought it would plateau five years ago, and I was wrong," says Sutton, adding that the job market this year - on the ebb of the dot-com wave - is "not as good as it was a year ago."
More evidence of a sports economy downturn is mounting, with talk of professional leagues shrinking, merging or folding completely, and layoffs at sports-employer juggernauts like Disney's Wide World of Sports causing sports-management faculty and placement advisors to sit up and take notice. "I'd say a sports downsizing is a very plausible scenario, and the reason is that like all other markets, there is a process of maturing, and the sports industry is maturing right now," says Fried. "Look at the typical corporate response when income goes down. It's not to hire more people; it's to cut back. I don't want to be a purveyor of doom and gloom, but we might be seeing that in the sports industry."
In the end, consumer spending will play a major role in dictating the fate of the sports-management job market. "What happens in rough times when people start tightening the purse strings? They're not as free with their entertainment dollar," says Ammon. "If we ever do end up with a huge bear market, where inflation kicks in and there's a downturn to the economy, I think that you'll start to see some of this growth start to backfire a little bit. What happens when the corporations don't want to buy suites? What are the owners going to do with these brand-new facilities that still have $200 million of debt service they have to pay off, and suddenly they're not able to fill all their suites?"
Before pushing the panic button, keep in mind the fascination with sports that still grips a good share of us - through good times and bad - whether we're among those employed in the industry or those standing at the ticket window or sitting in front of the TV. "The only way this will ever change is if the public chooses not to follow - if people say, 'Nobody is worth $252 million. This is a baseball game,' " says Titlebaum. "The reason I don't think that will happen is that people live vicariously through sports. Sports is attractive because it's an unpredictable ending - you don't know what you're going to get."
The same could be said about sports as a career choice, but job satisfaction within the industry remains high even with uncertain times ahead. At this point, whether we soon witness the end of sports' great growth spurt is the subject only of educated guesses. "I hope not," Kreutzer says. "I like going to work in the morning."