Reckless Misconduct Tends To Be the Call When Two Players Collide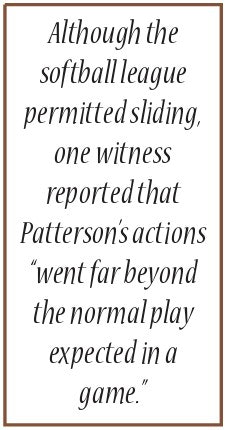 There no longer appears to be much doubt about the outcome when the clash of two recreational sports participants results in a serious injury (and lawsuit). With each new case in states that have not yet addressed the issue, reckless misconduct, and not mere negligence, has become the nearly undisputed standard.
In the most recent case, Kiley v. Patterson [763 A.2d 583, 760 A.2d 1253 (R.I. 2000)], the plaintiff, Lori Kiley, was playing second base during a recreational, coed league softball game when a ball was hit to the third baseman. An opposing player, Steven Patterson, advancing from first base, ran down to second and in an attempt to break up a possible double play, slid hard into Kiley, raising at least one foot high off the ground. In the ensuing collision, Kiley suffered an injury to her knee.
Although the league in question permitted sliding, one witness reported that Patterson's actions "went far beyond the normal play expected in a game." Another witness who observed Patterson sliding into second base and striking Kiley's legs with his feet stated that Patterson's conduct was "uncalled for and clearly outside of the bounds of the type of game being played."
In rejecting Kiley's lawsuit to recover medical expenses for her injured knee, the Rhode Island Superior Court concluded that Patterson's conduct was not reckless. The court ruled that since the league permitted sliding, Kiley, an experienced softball player who had played second base in numerous games, had assumed the risk of suffering this type of injury. These normal risks, the court noted, included the risk that other players might negligently injure her while sliding into second base to break up a double play or elude a force-out.
On appeal, however, the Supreme Court of Rhode Island rejected the lower court's findings and held that the appropriate standard of care for determining liability in cases involving co-participants in an athletic event is recklessness or deliberate misconduct, and not one of ordinary negligence. In sending the case back to the lower court for trial, the court ruled that it was up to a jury to determine if Patterson was merely negligent or whether he acted deliberately or in reckless disregard of injuring Kiley when he slid into her knee with his foot raised high.
While this was the first time the Rhode Island courts had been faced with the issue, the Supreme Court of Rhode Island noted that a number of other states had already considered it. A majority, the court continued, had concluded that to constitute a tort, the conduct must exceed the level of ordinary negligence and reach a level of conduct that is reckless, willful or intentional.
Unlike the theory of negligence, which is well established, the use of reckless misconduct in cases involving athletic participants has slowly emerged as a legal theory. In the past 26 years, only 10 states have adopted or applied the theory of reckless misconduct in sport cases:
• Illinois: Nabozny v. Barnhill [31 Ill. App. 3d 212, 334 N.E.2d 258 (1975)]
• Missouri: Ross v. Clouser [637 S.W.2d 11, (Mo. 1982)]
• New Mexico: Kabella v. Bouschelle [100 N.M. 461, 672 P.2d 290, (N. M. Ct. App. 1983)]
• Massachusetts: Gauvin v. Clark [404 Mass. 450, 537 N.E.2d 94 (1989)]
• Nebraska: Dotzler v. Tuttle [234 Neb. 176, 449 N.W.2d 774, (Neb. 1990)]
• Louisiana: Picou v. Hartford Insurance Co. [558 So.2d 787, 790 (La.Ct.App. 1990)]
• Ohio: Marchetti v. Kalish [53 Ohio St. 3d 95, 559 N.E.2d 699 (Ohio 1990)]
• Texas: Connell v. Payne [814 S.W.2d 486 (Tex.Ct.App.1991)]
• California: Knight v. Jewett [3 Cal. 4th 296, 11 Cal.Rptr.2d 2, 834 P.2d 696 (1992)]
• New Jersey: Crawn v. Campo [136 N.J. 494, 643 A.2d 600 (N. J. 1994)].
It is worth revisiting the first of these cases, Nabozny v. Barnhill. That case arose when Julian Nabozny was injured during a soccer match. Nabozny, the goalkeeper for his team, went down on his left knee within the penalty area to receive a ball passed by one of his teammates, and pulled the ball to his chest. Instead of breaking off his attack and moving to defense, David Barnhill, an opposing player, continued to run in the direction of the ball and in attempting to kick the ball, kicked the left side of Nabozny's head. Nabozny suffered permanent damage to his skull and brain.
In finding for Nabozny, the Appellate Court of Illinois ruled that while the law should not place unreasonable burdens on free and vigorous participation in sports, athletic competition does not exist in a vacuum. All athletes have a legal duty to every other player on the field to refrain from conduct that is in reckless disregard of another's safety or in violation of a safety rule. In soccer, the rules clearly prohibit contact with the goalkeeper when he or she is in possession of the ball. Barnhill's reckless disregard for Nabozny's safety could not be excused, the court said, because it creates such an intolerable and unreasonable risk of serious injury to other participants.
The Illinois court was careful to construct the new reckless-misconduct standard so that it would allow and encourage a certain amount of physical contact in athletic activities without the fear of litigation. At the same time, the court wished to avoid the possibility of a flood of new litigation. As outlined by the court, reckless misconduct stands between negligence and an intentional tort, and occurs when someone intentionally acts in reckless disregard of the safety of another, when the risk is so great as to make the harm highly probable.
While most states presented with the issue have followed Illinois' lead, the theory's acceptance has not been universal. For example, in Lestina v. West Bend Mutual Insurance Co. [176 Wis.2d 901, 501 N.W.2d 28 (1993)], the plaintiff was injured in a recreational soccer game when an opposing player slide-tackled him in order to prevent him from scoring a goal. In rejecting the adoption of a reckless-misconduct standard, the Supreme Court of Wisconsin noted that the negligence standard already requires that a person exercise ordinary care. For this reason, the court ruled, the negligence standard, when properly understood and applied, is adaptable to a wide range of recreational-sports situations.
Once the Supreme Court of Rhode Island decided the appropriate standard, the court was then required to review the evidence to determine whether it might support Kiley's claim that Patterson either willfully intended to strike her knee or acted recklessly. In determining that a reasonable jury might find that Patterson's slide was reckless, the court noted that while the league allowed sliding, there was also a specific league rule prohibiting this kind of takeout slide. As for the argument that Kiley assumed the risk of this type of injury, the court held that while she might be aware of the risks inherent in playing softball, she could not, as a matter of law, assume the risk of sustaining injuries as a result of the deliberate or reckless misconduct of opposing players in violation of league rules.
While Kiley will have very little legal impact outside the state of Rhode Island, it is important nonetheless as an indication of the growing acceptance by courts of the reckless-misconduct standard. This standard is becoming so well established that it is now almost impossible to believe that any state presented with the issue for the first time would not follow the lead of Nabozny.