A harassment case's dismissal shouldn't green-light hazing rituals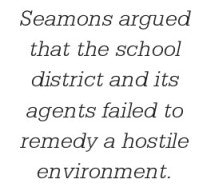 Although Title IX has received more attention in the area of athletic participation, it also prohibits sexual harassment under either of two legal theories: quid pro quo or hostile environment. Quid pro quo sexual harassment occurs when a person grants or withholds benefits as a result of the other person's willingness or refusal to submit to the first person's sexual demands. Hostile environment sexual harassment exists when a person's conduct limits the ability of an individual to benefit from services, opportunities or privileges by creating an intimidating, hostile or offensive educational environment so severe that it interferes with the individual's ability to perform. It does not matter if the harasser's behavior is deliberate or simply has the effect of creating an offensive atmosphere; the only thing that matters is the outcome.
Hostile environment sexual harassment was at the center of a case decided last September after five years in the courts. Although the Federal District Court in Utah dismissed Brian Seamons' lawsuit against his football coach and Cache County School District before it went to trial, school districts can draw many lessons from the case.
The trouble began in the fall of 1993, when Seamons was a junior and second-string quarterback at Sky View High School in Smithfield, Utah. One day, as Seamons was coming out of the shower after football practice, five of his teammates forcibly restrained and bound him to a towel rack with adhesive tape while other members of the team watched. Then, one of his teammates left the locker room and returned with the girl Seamons had taken to the homecoming dance.
Seamons reported the incident to the police and to school administrators, and he and his parents met with Coach Douglas Snow and Principal Myron Benson to discuss what actions the school would take. While Snow explained that he would support Seamons' decision to pursue criminal charges against the players, he also stated that he would not remove them from the team, since "hazing has always gone on in the locker rooms."
Snow encouraged Seamons to remain on the team; Seamons' teammates were less encouraging. At a meeting held shortly before the team was scheduled to leave for a game (the coach was hoping to clear the air), one of the captains who had participated in the assault charged Seamons with betraying the team by reporting the incident and asked that Seamons apologize to the team before being allowed to play on the team again. Snow went along with this suggestion, agreeing that Seamons needed to "forgive and forget and apologize," but Seamons refused. Snow, concerned that the hostility between Seamons and his teammates might have an impact on that night's game and even create a potential danger for Seamons' safety, barred Seamons from attending the game.
The following week, after Seamons' parents called Benson to express their disapproval with Snow's actions, and with Seamons still refusing to apologize, Snow barred Seamons from the team. Seamons' parents reported the matter to the school board, which responded by canceling the remainder of the football season. As a result, school became so intolerable to Seamons that he was forced to transfer to a high school in another community.
It was at this point that Seamons and his parents filed a lawsuit claiming that the Cache County School District and Sky View High School had created and tolerated a hostile educational environment in violation of Title IX. Seamons also argued that the defendants violated the free-speech clause of the First Amendment by removing him from the football team for reporting the hazing incident.
In support of his claim, Seamons argued that the school district and its agents knew or should have known of several incidents of sexual harassment against Seamons and that the school district and its agents failed to remedy a hostile environment. (It is important to note that this part of the lawsuit only targets the school district, since Title IX is applicable against an "education program or activity receiving federal financial assistance," not individuals.)
In rejecting Seamons' Title IX claim, the court concluded that Title IX does not expressly create a cause of action based on negligence for hostile environment. Even so, the court still found that Seamons failed to support his claim. The only incident of sexual harassment the court found was the hazing incident, in which the school district and its agents were not involved.
In rejecting Seamons' free-speech argument, the court acknowledged that students in the public schools do not "shed their constitutional rights to freedom of speech or expression at the schoolhouse gate." The court, however, found virtually no evidence that Seamons was removed from the team for reporting the hazing incident. The court found that the only reason Seamons was not asked to rejoin the team that evening was because Snow wanted to resolve the hard feelings that existed between Seamons and his teammates before Seamons rejoined the team. Therefore, the court held that Snow's decision was not retaliatory, but precautionary, and had nothing to do with Seamons' exercise of his free-speech rights.
In fact, the court found that all of the evidence showed that Snow promised to support Seamons if he decided to pursue criminal charges against his teammates, and that the coach expressed an unequivocal desire that Seamons remain on the team. It was Seamons, the court found, who decided to stop attending practice. The court went on to say that even if it found that Snow's request to Seamons amounted to a violation of his right to free speech, Snow and the school would still be entitled to qualified immunity.
Unlike sovereign immunity, which has been abolished or modified in a number of states, the doctrine of qualified immunity generally shields government officials performing discretionary functions from civil liability when their conduct does not violate clearly established statutory or constitutional rights that a reasonable person would have known. In support of this decision, the court pointed to the Supreme Court's decision in Tinker v. Des Moines Independent Community School District [393 U.S. 503 (1969)], which held that a student's personal expression may be restricted where the forbidden conduct "in class or out of it … materially disrupts classwork or involves substantial disorder or invasion of the rights of others." The court found that Snow's decision to not let Seamons travel with the team was based on his concern about the disruptive effect Seamons' return might have on the team and to protect the health and safety of the players. These actions, the court concluded, are immune from liability.
In spite of this case's outcome, it's clear that coaches and school administrators must be more proactive in ensuring a safe and healthy environment for their students. Sexual harassment law has changed dramatically over the past five years, and if this case were filed today, it is possible that a court might reach a completely different decision. For example, in June 1998, the U.S. Supreme Court held in Gebser v. Lago Vista District Independent School District that damages can be recovered in a Title IX sexual harassment case only if a school official with authority to take corrective action "has actual notice of, and is deliberately indifferent" to the abuse. A court, therefore, could use the coach's statement that "hazing has always gone on in the locker rooms" as an admission that the school knew of a hostile or offensive environment and failed to remedy or prevent it. The Supreme Court is also scheduled to hear a case this year, Davis v. Monroe County Board of Education, arguing that a school official should be liable for student-to-student sexual harassment. School districts and athletic departments thus would be well advised to ensure that "hazing does not always go on in the locker rooms."
In the area of free speech, school districts should note that government entities cannot deny a student a benefit on a basis that infringes his constitutionally protected interests, especially his interest in freedom of speech. This is true, even when the person has no right to the benefit and even though the government may have denied that student the benefit for any number of reasons. Therefore, if the facts in this case showed that Snow actually retaliated against Seamons for exercising his free speech rights, even though Seamons does not have a constitutionally protected interest in playing football, those actions would be prohibited.
It is also important to note that although Seamons lost his case on the federal level, the five assailants, the coach and the school district are still not free from litigation. As the court noted in dismissing the case, there appear to be a number of valid claims that can be made in state criminal court (assault and battery) and state civil court under tort law (assault and battery against the students, and negligent supervision against the coach and school).
Finally, a number of organizations, including the National Football League and the NCAA, have begun to address the issue of hazing in the locker room. While it originated as a good-natured way of welcoming someone to a group, the practice of hazing has gotten out of hand. Individuals have been seriously injured, and many coaches and school administrators are doing nothing to prevent it because, as Snow said, "hazing has always gone on in the locker rooms." To eliminate hazing, coaches and school administrators must let athletes know that they will be severely disciplined if they continue with the practice.
---
Attorney John Wolohan is an associate professor of sports law in the Sports Management program at Ithaca College in Ithaca, N.Y. Attorney Glenn M. Wong, editor of "Sports Law Report," is a professor in the Sport Management program at the University of Massachusetts, Amherst.