Any sports organization can use brick and tile fund-raisers to tap into revenue streams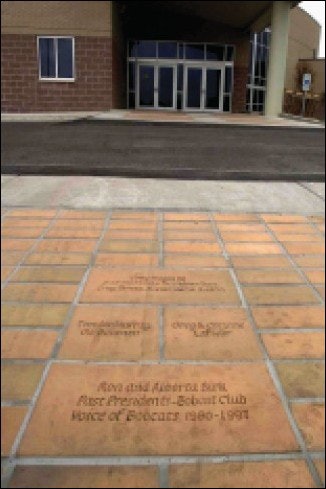 Gregory Kuehl had no idea that there were so many facets to brick. "I thought a brick was a brick was a brick," says Kuehl, program consultant with the Green Bay/Brown County Professional Football Stadium District. "But when I began researching, I realized that it just wasn't true."
It was then that Kuehl learned another of brick's potential uses: revenue generator. In his position with the nonprofit agency created in 1999 to manage the renovation of Lambeau Field (home of the Green Bay Packers), Kuehl founded a brick and tile paver fund-raiser program, the proceeds of which support the ongoing maintenance and operation of one of the NFL's most storied venues.
Relying on the expertise of several outside contractors, but primarily the resourcefulness of a full-time staff of three people (himself included), Kuehl has sold to Packers supporters various-sized bricks and decorative tiles commemorating Lambeau Field's 2002 renovation. The units are available for purchase via a toll-free phone service or mail order, and are sometimes purchased by fans as keepsake items to adorn their personal Packers shrines. Most often, though, purchasers request that their commemorative bricks or tiles be placed in prominent, predesignated locations throughout the stadium.
The extraordinary devotion of Packers fans, known for being among football's most loyal, has helped make the brick and tile fund-raiser not only fun, but extremely profitable. In less than two years, Kuehl's program has grossed more than $1 million - and counting.
"I'm trying to develop this into an ongoing program, to keep this revenue stream alive," says Kuehl, adding that he has maintained a 60 percent profit margin throughout much of the campaign. "You can really run a brick and tile program at any time, although you'll be more successful if you tie the program to a special event: a player or coach retirement, a 50th anniversary or a divisional championship."
Kuehl concedes that it isn't typical for a brick and tile fund-raiser to achieve the kind of success experienced by his program. A more reasonable expectation of smaller organizations like municipal recreation agencies and college athletic departments would be to generate revenues in the five- or six-figure realm.
Take, for example, the brick fund-raiser of the Morgan Hill (Calif.) Aquatics Foundation, a nonprofit organization that supports competitive swimming programs. The foundation's board members, following a course of action similar to that taken by the Green Bay stadium district, chose to coordinate their brick fund-raiser with the June 12 grand opening of the city's first aquatic center.
The primary goal of the program is to generate enough revenue to keep the $12 million Morgan Hill Aquatic Center (a facility with three outdoor pools) open during its off-season, which is expected to cost anywhere from $100,000 to $200,000. The city's recreation department only plans to keep the facility open to the public during the summer months, while local year-round swim clubs hope to move in during the fall and winter.
In the three months prior to the aquatic center's opening, the Morgan Hill Aquatics Foundation sold 140 of the 2,000 bricks that will be used to pave a 20-foot-diameter medallion at the facility's entrance, raising $15,000.
Aside from making money, the brick fund-raiser is providing members of the Morgan Hill community, which has long supported aquatic recreation, a sense of ownership in the aquatic center. "I grew up here, and in this town, swimming used to be the only recreational activity available for kids," says foundation board member Geno Acevedo. "Some people support softball, others soccer. Buying a brick is a way for people to show that they supported this particular amenity in the community."
But securing the buy-in of longtime supporters of your organization is the easy part of running a brick fund-raising program. The toughest task is laying out a detailed game plan for the program's operation that takes into account all sorts of variables, from vendor and product selection to logistics to marketing and retailing strategies.
Before those issues are tackled, it's necessary to figure out who is responsible for making those decisions. In Green Bay, decisions regarding the brick fund-raiser program are shared by the stadium district and the football team. (In effect, the district serves as the landlord of Lambeau Field, and the Packers, as tenant, are responsible for the facility's operation.) "The team had the final say in the design and pricing of the bricks and tiles," says Kuehl. "But we worked very closely together to come up with something with which we all felt comfortable."
Another decision with which both the Packers and the stadium district felt comfortable was the choice of laser-engraved bricks and tiles, as opposed to mechanically engraved or sandblasted products. "We wanted to see how the bricks would hold up, especially in a climate like ours. So we went to Philadelphia and visited an installation that used the traditional method, and it looked terrible," says Kuehl. "For example, the middle part of the letter 'A' broke off because of freeze and thaw, and the writing became illegible. You can try to combat that with fillers and epoxies, but those fade in the summer, or eventually chip and peel."
On the other hand, the heat of a laser "actually vitrifies the brick or tile, so it can't chip or peel," says Kuehl. "In our mind, laser engraving is more durable."
Once they decided on a product, the two organizations spent five months selecting a brick manufacturer/vendor. A national search originally netted proposals from 11 firms, a list that was whittled down to four before the eventual vendor was picked. "You need to pick someone who can deliver the whole package," says Kuehl, adding that in the end, each candidate's ability to process large orders of various sizes proved to be of greater importance than the fees they charged. "There are a million guys who can engrave brick and tile. You need a company that can pack and ship the product, and make sure it arrives undamaged."
For some organizations, shipping capabilities might not be a primary concern. The athletic department at Texas State University in San Marcos chose a local company to supply and engrave hand-fired clay tiles to pave its Bobcat Walk of Champions, a path leading to the main entrance of its new athletics building. "We had to take two big trucks down to Austin to pick up the tiles," says Tim McMurray, Texas State's assistant athletic director for development, of his school's initial order of 1,500 tiles. "But there were no shipping costs." (Each of Texas State's subsequent orders has numbered around 30 tiles, a load that McMurray can easily transport the 30 miles from the brick vendor to the school in his own car.)
Because Texas State is only paying for the cost of materials and engraving, orders this small cost the school anywhere from $12 to $14 per 4-by-8-inch tile, with two lines of text. As the least expensive option, McMurray prices these tiles at $250 - earning a profit margin well above 90 percent. The most expensive tile, priced at $1,000, measures 8 by 16 inches and features three text lines. "Even with the $1,000 tiles, which cost us $22 each, we're sitting on a $978 profit," says McMurray.
The Morgan Hill Aquatics Foundation CIRCLE 31 ON REPLY CARD FO R PRO FIT chose a more conservative pricing schedule: 4-by-8-inch bricks cost $125 and 8-by-8inch bricks are $250. "We wanted to generate substantial revenue and net about 75 percent," says Morgan Hill Aquatics Foundation president John Rick. "But we also didn't want to price them too high."
On the other hand, Joe Jacobs, director of recreation for the city of Azusa, Calif., didn't hesitate to ask for larger donations to his department's skate park brick sponsorship program, which raised $35,000 to help build the Canyon City Skate Park in 2001. This was in large part because Jacobs had arranged to raffle off a new pickup truck in conjunction with the brick sponsorship drive. For each $100 contribution toward two walls built at Canyon City Skate Park (bricks, tiles, granite slabs and bronze plates were priced at $100, $500, $1,000 and $5,000, respectively), a donor received one ticket in the truck drawing. "A dealer in town gave me a 'good buddy' discount, and I got a $17,000 truck for $11,000," says Jacobs. "Somebody donated some rims, and we had a stock truck that looked real nice."
Jacobs credits the marketing gimmick for helping the Azusa Recreation Department sell 350 bricks and tiles. "People participated for various reasons," says Jacobs. "You had the sentimental community member who wanted to see his name on the wall. Then you had the Gen Xer who wanted to park a $17,000 truck in his driveway."
No matter what marketing strategies they choose, organizers of brick and tile fund-raisers should remember the goal is to maintain a substantial profit margin - which, among other things, can be done by offering a diverse product line. "There's something for every pocketbook. But we try to up-sell people to a larger, more expensive item," says Kuehl. "I don't have any one item that's a dud, one that has made me say, 'Why did I put that in there?' "
Kuehl's most recent offerings are Lambeau Field wedding tiles - they feature wedding bells inside the Packers' logo - for those fans who hold (or aspire to hold) their weddings at the stadium. "The bricks and tiles have become destinations unto themselves," says Kuehl, whose office is located at Lambeau Field. "There's always someone out there taking a picture, lying next to his or her brick."