Oregon State University uses exercise machines as a source of renewable energy.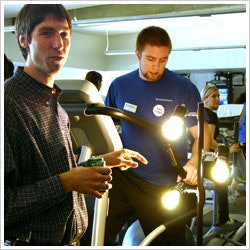 Legs churning. Hearts pounding. The background hum of hardware in motion. Oregon State University is among the first schools in the country to harness the power of its student population as a form of renewable energy.
Using a new technology developed by Clearwater, Fla.-based ReRev.com LLC, the university has retrofitted 22 elliptical exercise machines in its Dixon Recreation Center as a means of collecting the power produced by students and feeding it back into the power grid.
The effort will produce an estimated 3,500 kilowatthours of electricity per year, according to OSU sustainability coordinator Brandon Trelstad (pictured). "Our ultimate goal is to maximize both the real power output of the system and the learning opportunities gained by having it at OSU, where our students clearly care about renewable energy," he says.
The ReRev technology features a patent-pending system called ReCardio that captures and converts the otherwise counter-productive heat energy from exercise machines. A real-time display screen on each elliptical shows the students' momentary power production, production peaks and production to date.
The OSU installation, unveiled in February during Campus Wellness Week, is believed to be the largest of its kind in the world, and a 40-unit expansion is already being discussed. The center's workout volume "could eventually produce the same amount of electricity as a small solar photovoltaic system," says Matthew Pennington, chief of staff for the Associated Students of Oregon State University, "placing students directly in the renewable energy production chain."