A Camarillo (Calif.) Boys & Girls Club program teaches kids to analyze the foods they eat.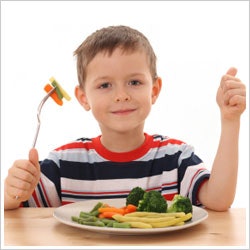 Recent studies indicate that after decades of rising childhood obesity rates in America, the percentage of overweight kids has leveled off. Still, it is believed that as many as one in three children are overweight, and as many as one in five are obese.
That's not good enough for some children's health advocates. Last summer, the Camarillo (Calif.) Boys & Girls Club launched a kids fitness program that not only emphasized push-up and sit-up techniques, but food label-reading skills, too. And during a nine-week period last fall, students at Mission Manor Elementary School in Tucson, Ariz., prepared to face R.E. Elementary in Phoenix in a rematch of the previous year's Operation Tone Up Contest, which combined exercise dexterity and fitness knowledge in a game show format.
The Camarillo Boys & Girls Club program, offered free via $90,000 in grant money from a local insurance provider and a wellness foundation, teaches children to analyze the caloric, sugar and sodium content of the foods they eat. Club members pledge to avoid sugary soft drinks and junk food, and parents are encouraged to serve as nutritional role models. The program includes cooking classes for families led by a professional chef. "You have to be smart about what you pick, and you have to watch your weight," fifth-grader Joey Ponce told The Camarillo Acorn in November.
That message is sinking in with Mission Manor students, too. "I had a parent come in and tell me the son said they shouldn't buy Cheetos anymore because they were empty calories and had no nutritional value," fourth-grade teacher Kristi Hamblen told the Tucson Citizen. "Children this age don't always have the opportunity to choose the foods they eat, but this way they are getting to know what their bodies need for the different things they do all day. They learn they need carbohydrates to give them energy and protein to rebuild their muscles. They know why they need six to eight glasses of water a day. They learn how their metabolism works."
That knowledge is put to the test in a "Family Feud"-style interscholastic showdown. Only 15 to 20 children ultimately represent their schools in the contest, but because they are selected at random during the last week of preparation, all students must be in their best mental and physical shape - an approach to wellness that now lasts year-round, according to Hamblen. "We continue it because we can't imagine just letting that go."