College football fans bid big bucks to win a spot on the sidelines at a handful of 2009 spring games.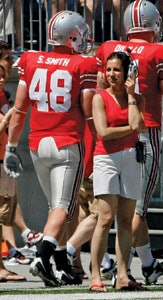 An NCAA-record 95,722 fans nearly filled Ohio Stadium for the Ohio State University football team's annual spring game April 25. Most paid $5 to see the Scarlet scrimmage the White (OSU students, at the last-minute insistence of head coach Jim Tressel, were admitted free this year). Two fans, however, paid big bucks to see the Buckeyes battle up close and personal. Monika Bajaj and Craig Martin each bid more than $2,000 for the right to serve as honorary coaches on opposite sidelines.
This was actually the second season that OSU offered - as its auction web site declares - "this once-in-a-lifetime, all-access Ohio State football opportunity," but only one winning bidder was tabbed last year. For their investments, which directly benefit OSU student-athletes, Bajaj and Martin joined their respective teams on the field during warm-ups, in the locker room for pregame and halftime strategy sessions, on the sidelines during the game (headsets were provided to allow for monitoring of coaches' conversations), and back in the locker room for postgame assessments. They also got a sideline coach's shirt and a media guide signed by Tressel. Bajaj, who shadowed the Scarlet team, also got Tressel to sign an Ohio State helmet that's been in her OSU-themed rec room for years. The 1998 graduate even had pictures taken with former Buckeyes Chris "Beanie" Wells and Ted Ginn Jr. "I don't even know how to describe it," Bajaj, a Canton native who does information technology consulting for the U.S. government in Washington, D.C., told the Columbus Dispatch. "You get to see everything right in front of you, and you get to hear the play calls."
It's an experience more schools may be willing to afford their more affluent fans. Winning bidders in a first-time "guest coaches" auction at Mississippi State actually got to help draft the Maroon and White teams the day before they scrimmaged April 18. They then delivered their respective team's game-day pep talks and weighed in on play-calling decisions. Richard Adkerson, an MSU alum and Fortune 500 CEO, was the beneficiary of the winning bid cast by his sons as an early Father's Day gift at www.mstateathletics.com, which saw some 30 bidders vie for the White team opening. Maroon coach Bud Thompson, president of the Bulldog Club, emerged from a separate auction held among Bulldog Foundation board members. (Dollar figures were not released.) "It was actually [first-year] Coach [Dan] Mullen's idea," Joe Galbraith, assistant director of media relations for MSU athletics, says of the auction. "We ran with it, our fans really seemed to enjoy the idea of it, and bidding was fairly intense. I think it will grow in popularity in the future."
Ohio State plans to continue auctioning off such rites of spring, as well. Says Jeff Brown, OSU's web communications specialist who handles online auctions for the athletic department, "Our coaching staff has been very supportive of it, and it really gives fans a behind-the-scenes opportunity." Whether it becomes a more-than-once-in-a-lifetime opportunity for dedicated fans is anybody's guess. Bajaj, for one, "coached" like there was no tomorrow. "It was definitely worth it," she told Dispatch reporter Jim Siegel midway through the second half. "They can fire me after this game."