The WNBA's jersey sponsorships are perfectly in tune with American and international sports tradition.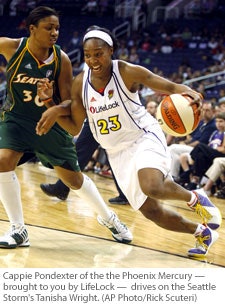 Gentlemen, start your hand-wringing! The WNBA's decision to authorize its teams to seek out jersey sponsorships, and the June announcement that two teams had landed them, led to a predictable (if muted) outcry in the nation's sports pages. Although the trend didn't get named a "Sign of the Apocalypse" by Sports Illustrated - the venerable magazine is no doubt awaiting a company name to turn up on a shirtfront that it and its primary demographic recognizes - plenty of concern was expressed by self-described traditionalists who wondered what it might augur for fans of the Dallas Cowboys' lone star or the New York Yankees' pinstripes.
Outwardly at least, most league officials and team owners have approached the subject warily. After identity theft protection firm LifeLock paid the Phoenix Mercury $1 million for the team's jersey fronts over three years, Tom Wilson, CEO of Palace Sports & Entertainment (which owns the WNBA's Detroit Shock and NBA's Detroit Pistons), told the Detroit News, "We'd be foolish not to explore the option," but added, "I think everybody will go slowly and carefully into it. We don't want to be in a slippery slope of NASCAR-ization of the uniforms. We still want to maintain some integrity."
One major component of that careful, virtuous approach has been to shift the blame for the need to buck tradition onto the league's players and fans, a time-honored tradition in its own right. Thus, Wilson's remark about Palace Entertainment's being "under real pressure with sports team salaries," and various newspaper accounts noting skyrocketing costs for player salaries and stadium construction. That the cost of construction or renovation is typically borne by taxpayers and fans (in the form of tax hikes, higher prices and seat licenses) elicited nary a mention; neither did the fact that team owners always have the option of cutting their budget rather than adding to it.
Selling your shirtfront is, in fact, not the "radical solution" of which Wilson spoke. One of the nation's most storied sports franchises, the Green Bay Packers, got its start in 1919 when "Curly" Lambeau asked his employer, the Indian Packing Company, to help fund his new football team. (The company gave him $500 for uniforms and equipment, on the condition that the team be named for its sponsor.) In the other game of football, Major League Soccer teams haven't shied from the standard international practice of selling ad space on team jerseys. Ten of the league's 16 teams, from the Los Angeles Galaxy (Herbalife) to the Chicago Fire (Best Buy) to the Columbus Crew (Glidden), dress their players in shirts featuring small crests and much larger billboards.
"Radical" to most Americans is the situation in Japan, where all but one of Nippon Professional Baseball's franchises take the name of their corporate owners. Only the Yokohama BayStars are identified solely by the city or region in which the team is based - the country's Yankees equivalent is the Yomiuri Giants, of Tokyo, which is named for the Yomiuri Group, a media conglomerate. Its Packers equivalent, the Hokkaido Nippon-Ham Fighters, has been owned by meat-packing company Nippon Ham since 1974.
But Americans by now have certainly made peace with the presence of corporate money at their local stadiums, which at one time honored fallen soldiers, community benefactors or beloved former coaches, but since 1999 have been named for airlines, insurance companies or dot-com businesses (and, sometimes, all three in quick succession). Bay Area residents balked at the renaming of city-owned Candlestick Park in 1995 after the sale of naming rights to 3Com Corporation, but many to this day (even after Monster Cable products subsequently got naming rights) still refer to it as "The Stick," and the games go on. Professional golfers wear logos on their hats and shirts that, while certainly more tasteful than the once-ubiquitous PGA uniform of argyles and plaids, provoke no gnashing of teeth behind the rope lines.
The biggest dilemma, actually, is what to do when the corporate interests of a player don't mesh with the corporate interests of the team or league. Contracts nowadays are written in anticipation of golfers sponsored by Buick playing in the Honda Classic and those sponsored by Honda competing in the Buick Open. And even many ex-athletes swerve to avoid such collisions of commerce - this May, Michael Jordan, one of the pillars of the house of Nike, showed up to Game 3 of the National Hockey League's Western Conference finals and donned a number-23 Chicago Blackhawks jersey specially altered by team officials, who had sewed a red patch over the maker's company logo. Apparently, Reebok's $204 million deal with the National Hockey League does not include photo opportunities with Nike-hawking NBA legends. Nor, apparently, would the company stop at altering mere fabric. Second-year backup center Marcin Gortat of the Orlando Magic got a phone call from Reebok (his shoe sponsor) this June; the company was upset about a photo of him that appeared in a newspaper in his native Poland that prominently displayed the Michael Jordan/Nike logo tattoo on his lower right leg. According to NBA FanHouse (nba.fanhouse.com), Reebok asked him either to wear higher socks to cover up the tattoo, or to apply makeup so it would not be noticed during the remainder of the NBA Finals. Gortat, on the NBA's biggest stage for the first time, told reporters, "That ain't going to happen. I've been wearing it four or five years now, and it helped me get to the NBA. They didn't say anything about it when I signed the contract, so it's not going anywhere. I don't think they are paying me enough to take it off."
Spats like these make the news every now and then, but they're really nothing new - sporting America long ago sold its collective soul to the devil, even before Jordan draped an American flag over a Reebok logo on the medal stand at the 1992 Summer Olympics. There are simply too many instances of civic loyalty taking a backseat to sports business fealty to get teary-eyed about it.
One wonders whether NBA players, who've spent their whole lives visualizing "Lakers" or "Celtics" on their chests - now tabbed in The New York Times as "inventory that's not available any other place" by Rick Welts, president of the NBA's Phoenix Suns, which owns the Mercury - are excited by the prospect of playing for, say, AT&T. Thus far, the players have remained silent and, in any case, have limited say in the matter. And, meanwhile, the pace of current (sales) events is quickening. The NFL has approved the placement of corporate logos on practice jerseys, starting this fall, and several teams are said to be pursuing sponsors. Major League Baseball is similarly pondering advertising on special spring training uniforms or batting practice shirts. If the WNBA experiment pans out, one would think NBA teams would be next. Dallas Mavericks owner Mark Cuban, among the league's more outspoken characters, admitted as much on Dan Patrick's syndicated radio talk show in June. "It's just a question of price," Cuban told Patrick. "We already know we're whores; it's just a question of how much."