A new nationwide licensing program could help schools generate new revenue and protect their image.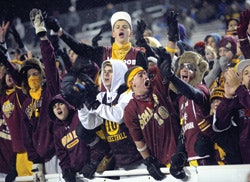 For years, Chuck Jones, athletic director at 3,400-student North Central High School in Indianapolis, noticed shoddy-looking unlicensed merchandise displaying the Panther logo being sold at well-known national retail stores in his area. Although he occasionally would ask to speak with the store's manager and request that the merchandise be removed, most of the time he just let it go. "On my radar screen of 1,000 things to do every day, it didn't really register," he says.
Then the NBA's Los Angeles Clippers drafted North Central alum Eric Gordon last summer, and suddenly it seemed as if everyone in town (and then some) wanted to sport Panther apparel. That's when the school - which has a national reputation in basketball and wrestling - decided to enter into an agreement with Continental Enterprises, an Indianapolis-based firm that in return for a cut of the profits helps schools establish licensing programs. "It has been an eye-opener," Jones says. "We still can't believe the number of people out there who are selling stuff with our name on it, without our approval, and making money from it."
Now most schools around the country will have an opportunity to make money from the sale of their own licensed merchandise, thanks to a new partnership between Holland, Mich.-based Licensing Resource Group and the National Federation of State High School Associations. All participating schools - as of August, the majority of state associations had agreements with LRG either in place or pending for their member schools - will receive royalties on apparel and other items bearing their name, logo or mascot.
For years, national retail chains such as Kmart, Walmart, Kohl's and Walgreens have been selling unlicensed high school-logoed merchandise, and schools haven't benefited. There's nothing illegal about that, says LRG's Dick Welsh, adding that colleges and universities experienced similar growing pains with unlicensed merchandise a quarter-century ago. Today, an estimated 400 to 500 colleges and universities have licensing deals in place. Until this year, though, no attempt had been made to rein in licensees for the entire high school market - which, at 19,000 schools strong, is considered to have the greatest potential for growth among all categories in the licensing universe.
Under the agreement, finalized this spring, LRG (which worked throughout the summer to secure high school licensee and retail partners) will take a small cut of all licensed-merchandise sales while schools still will receive "the majority of the share," says Welsh. Booster clubs and local mom-and-pop retailers that have existing merchandising arrangements with schools likely will be exempt from LRG's influence, since the company is targeting only large retail chains.
Additionally, a hangtag will identify each item as an officially licensed product, complete with a hologram of the NFHS logo (like those found on licensed merchandise for NCAA and pro teams), and state something to the effect that the purchase of that item directly benefits participating schools. "If Johnny is in the marching band - and I'm Johnny's grandmother - I'm more likely to buy a T-shirt with Johnny's high school logo on it if I know that a portion of the retail price goes to the school," says Judy Shoemaker, director of marketing for the NFHS.
But Jones, who does not plan on severing his ties with Continental Enterprises, says a licensing agreement is about more than just pocketing a little additional revenue. "I didn't go into this with the idea that it was going to be a big revenue stream; it's not going to be," he says. In fact, North Central has yet to see any revenue from its licensing program, and administrators are still in the process of weeding out low-quality representations of the school's logo and mascot. "I just see it as protecting how we are represented in the community. If my school is being portrayed in public, I want it to be first-class."
Every additional dollar schools can generate these days helps, though, and Shoemaker and Welsh suspect that many athletic directors don't even recognize the value of their merchandise. And few ADs have the time or know-how to do anything about it. "Athletic directors and school administrators are not marketers; they're educators, as we want them to be," Shoemaker says. "They don't have a lot of experience with licensing and marketing. That's not their job."
Licensed (and unlicensed) merchandise was on the federation's radar, Shoemaker adds, but it wasn't until LRG approached the Indianapolis-based organization last year that NFHS officials realized how they could make such a program work nationally. "It's going to take some time to grow and for the royalties to accrue," she says, and it will be up to schools to determine how the revenue will be used. "Let's say it's $1,000 - that is a significant amount of money. It could pay for a season's worth of travel for a football team. That is the kind of money schools need right now."