As calls for expanded instant replay in Major League Baseball intensified this fall, college football officials in the Southeastern Conference struggled with the technology at hand.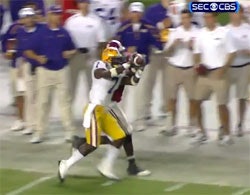 In full hindsight, it was a bad fall season for sports officiating, but a great one for advocates of instant replay. Not just any instant replay, though. Good instant replay.
An example: Oct. 31 - New York Yankee slugger Alex Rodriguez hit a fly ball off a Fox Sports camera perched atop the right-field wall in Philadelphia's Citizen's Bank Park during Game 3 of the World Series, only to have the blast ruled on the field as a double "off the wall." Once reviewed by umpires, with help from Fox's high-definition video feed and the control center at Major League Baseball Advanced Media in New York, Rodriguez was awarded a two-run homer, the Yankees rallied to a two-games-to-one Series lead and never looked back. Major League Baseball and its umpires had approved the position of each of Fox's 20 cameras prior to the game, with footage captured by the plunked camera actually contributing to the review process.
Now an example of bad instant replay: Nov. 7 - Louisiana State University cornerback Patrick Peterson appeared to intercept a pass along the right sideline, as the Tigers tried to stage a fourth-quarter comeback at Alabama, only to have the play ultimately ruled an incompletion. The decision came despite officials' review of replays that, according to every account in the sports blogosphere, showed Peterson had possession of the ball with his feet in bounds. The Tide capped the drive with a field goal to ice a 24-15 victory. What made the review process so unfortunate is that officials were left to dissect the play on low-definition monitors, meaning most fans watching the game at home on CBS got a better look at it.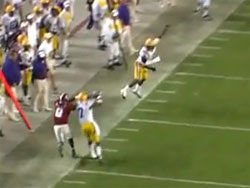 Viewed in its entirety, the baseball postseason could have used more instant replay - lots of it. But MLB general managers expecting to re-examine the expansion of its use beyond home run calls were met with Bud Selig's puritanical blinders. "Yes, we had some incidents that certainly need to be looked at. So I'm not minimizing them. But do I believe in instant replay? No, I do not,"' he told them in an address delivered days after the successful A-Rod overturn. "Human error is part of our sport."
Meanwhile, instant replay in college football, particularly the Southeastern Conference, just needs to get better. As of this writing, the LSU-Alabama game was one of three SEC games in which replay use resulted in controversy. As one blogger wrote of SEC officials, "They've been blowing replay calls with such frightening regularity that commentators have wondered aloud what the point of even having replay is if it's not going to make anything better."
According to the Birmingham News, national coordinator of college football officiating David Parry recognizes that high-definition replay monitors are scarce in many parts of the country. "I think that will be discussed," Parry told Jon Solomon. "I visited with the Pac-10 supervisor of officials the other day and he asked to put that on the agenda item for our national meetings in January."
While SEC coordinator of officials Rogers Redding says he doesn't see an emergency afoot, coaches and fans everywhere are hoping that an upgrade to HD replay is a call that officials get right.