Forty-seven groups from around the world have been honored with the Excellence in Youth Sports Award.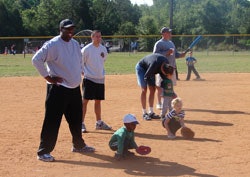 During the past 15 years, there has been no shortage of efforts to make youth sports programs safer and more effective. Sportsmanship education, the widespread implementation of background checks, and an increased number of organized activities for toddlers all contributed to creating healthier environments for kids. And even though there's still a long way to go, the Excellence in Youth Sports Awards program - introduced in 2000 - strives to ensure that positive changes will continue.
Developed by Athletic Business and the National Alliance for Youth Sports, the award recognizes organizations for their efforts to make diverse athletic, fitness and recreation activities a major priority for kids, while focusing on safe and positive experiences for all participants (including parents, coaches and officials). A decade on, 47 groups from around the world - including municipalities, military bases, Boys & Girls Clubs and YMCAs - have been honored as recipients.
"During the past 10 years, the Excellence in Youth Sports Awards have come to signify what conducting organized sports programs for children is all about," says John Engh, chief operating officer of NAYS. "Since its inception, we've been so pleased to see that organizations are stepping up the quality of their programs in an effort to not only be recognized with this prestigious honor but - most important - to simply do everything possible to ensure safe and rewarding experiences for every child in their programs, which is what it is all about."
Each winning organization will receive financial awards and in-kind contributions from a variety of sponsors, and will be recognized at the NAYS Youth Sports Congress, held in conjunction with the Athletic Business Conference in Orlando, Fla., Dec. 3-5.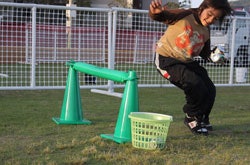 "This award is the holy grail of the youth sports field," declares Bob Mowchan, youth sports and fitness director at Andrews Air Force Base on the base's official web site.
Through the years, Excellence in Youth Sports Award winners have earned their recognition in different ways. Repeat honoree Tinker AFB (2006, 2008) revamped its entire youth sports operation by creating two policy handbooks (one for coaches and one for parents, both outlining everything from standard operating procedures to behavior expectations), installing kid-friendly fitness equipment, organizing memorable special events and developing Parents Association for Youth Sports and Start Smart programs through NAYS. Another two-time winner, Hickam AFB (2006, 2008) dedicated a 3,5000-square-foot Kidsports facility to gymnastics and skills-development classes for children ages 6 and under.
Gainesville (Ga.) Parks & Recreation Agency (2005) began mandating training for referees and umpires, just as it does for coaches and parents; the Green Bay (Wis.) Boys & Girls Club (2004) partnered with both the NFL's Packers, whose players work on volunteer projects with kids, and St. Norbert College in nearby De Pere, whose student-athletes run small skills clinics; and Misawa Air Force Base in Japan (2007) encourages cultural interaction by inviting local Japanese teams to participate in its basketball, baseball and soccer programs.
Regardless of what makes the award-winning programs tick, officials with each of them realize the value of the work they do. "Our hope," says Jacqueline Patterson, youth sports director at Sasebo, "is that through these opportunities, all of our youth will be inspired and driven to physically and mentally better themselves."
The 2009 Excellence in Youth Sports Award winners:
Previous winners from 2000 to 2008:
First Excellence in Youth Sports Award Winners (2000)
Second Annual Excellence in Youth Sports Award Winners (2001)
Third Annual Excellence in Youth Sports Award Winners (2002)
Fourth Annual Excellence in Youth Sports Award Winners (2003)
Fifth Annual Excellence in Youth Sports Award Winners (2004)
Sixth Annual Excellence in Youth Sports Award Winners (2005)
Seventh Annual Excellence in Youth Sports Award Winners (2006)
Eighth Annual Excellence in Youth Sports Award Winners (2007)
Ninth Annual Excellence in Youth Sports Award Winners (2008)
For the most current Excellence in Youth Sports Awards information, visit: http://athleticbusiness.com/nays/