What happens if City of Industry, Calif., gets a new professional football stadium?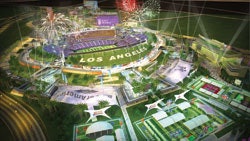 It largely escaped attention, but the bill signed in late October by California Gov. Arnold Schwarzenegger - which put a proposed $800 million football stadium in the San Gabriel Valley on a faster track by exempting the project from state environmental laws - threatens to kick off one of the stranger chapters in the annals of pro sports facility construction.
That the stadium is being planned with no particular anchor tenant in mind is an oddity, perhaps, but it's nowhere near unprecedented. Residents of St. Louis, just to cite one recent example, taxed themselves in the early 1990s to build the $280 million Trans World Dome in the hopes of luring an NFL franchise. (The Rams moved from Los Angeles in 1995.) The timing is certainly questionable - a global (and California) economic meltdown would not seem the most advantageous moment to launch a three-million-square-foot complex that in addition to the stadium would house an orthopedic hospital, a movie and live performance theater, and office and retail space - but, then again, the Dallas Cowboys would seem to have few regrets about the opening of Cowboys Stadium this season.
No, the strangest aspect of the project is the city that some future NFL team could call home. City of Industry, which is zoned 92 percent industrial and 8 percent commercial, has only a handful of private residences in its 12 square miles. Incorporated in 1957 to prevent surrounding cities from annexing industrial land for tax revenue, City of Industry was credited with a resident population of 777 in the 2000 census; however, it is home to more than 2,200 businesses that employ more than 80,000 people. It is a city with no business taxes and encompasses a Foreign Trade Zone. Officially outside U.S. Customs territory, it is a popular investment area for Chinese businessmen (and, presumably, wannabe NFL franchise owners) and has emerged as a high-tech import/export center for computer parts, with links to the Asian marketplace.
In such a nexus of industry and commerce, discussions of public versus private money in the construction of a football stadium seem rather quaint, if relevant at all. Earlier this year, a $500 million bond package was put before City of Industry voters - there are fewer than 100 of them - that would in part fund infrastructure improvements to make the privately funded development possible. It passed by a vote of 60 to 1. In return, billionaire real estate mogul Ed Roski Jr. asked only that he receive a 40 percent stake in whatever team moves to City of Industry - the shrewdest move of all, since location is ultimately unimportant in the NFL, a Socialist venture in which revenues are pooled for the common good of its Capitalist owners. As Neil deMause, coauthor of Field of Schemes, told Dave Zirin of the Los Angeles Times, "In a town with barely any actual people in it, you could legitimately argue that the industry in Industry is just voting to tax itself to bring the NFL to town."
That said, an even stranger aspect of the deal could still be coming. Since Roski has said that it is not his intention to pursue an NFL expansion team, it's possible that the San Diego Chargers, Buffalo Bills, Jacksonville Jaguars, Oakland Raiders, San Francisco 49ers - or even the St. Louis Rams! - might one day take the field in a town with almost no hometown fans.