A roundup of groundbreakings and grand openings.
Groundbreakings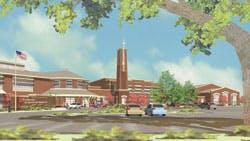 Construction is under way on a 17-acre campus in Augusta, Ga., for the $33.9 million Salvation Army Ray and Joan Kroc Corps Community Center of Augusta. A major component of the facility will be the First Stop Center, from which more than 20 nonprofit agencies - including a local United Way chapter that will be headquartered there - will provide various services while utilizing a cooperative database. An arts, education and worship center will house a chapel and administrative offices, skills training suites, a 400-seat theater, a senior lounge, a computer lab, classrooms, music rehearsal spaces, a childcare area and an outdoor playground. A 270-seat banquet center with a teaching kitchen for job skills training will lead to an expansive outdoor terrace overlooking the scenic Augusta Canal. The recreation component will feature a comprehensive fitness center with a full complement of cardiovascular and strength training equipment and facilities, and an indoor aquatics center will feature a waterslide, a splash park and a lap pool. Designed by Denver-based Barker Rinker Seacat Architecture and Augusta-based Cheatham Fletcher Scott Architects, the center is expected to open late next year.
Grand Openings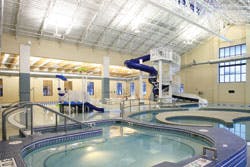 The result of a citizen-driven grassroots effort to fund and operate a new recreation facility, the $16 million Grand Park Community Recreation Center recently opened on a donated 4.9-acre site in Fraser, Colo. The center will anchor a mixed-use development featuring a hotel, a grocery store, a service station, offices, retail stores and loft-style residences. The nearly 50,000 square feet of program space includes community rooms, leisure aquatics facilities, a fitness center, a walking/jogging track, group exercise rooms, and facilities for gymnastics, basketball, volleyball and ski training. Private fundraising efforts allowed for the addition of an indoor climbing wall, a separate four-lane, 25-yard lap pool and a water slide. The building incorporates sustainable strategies such as energy conservation through super insulation, high-efficiency boilers and energy-efficient and multilevel lighting. Water conservation measures include low-flow fixtures, native plantings and regenerative filter media for the pools. Daylighting strategies were integral to the design of the natatorium, gymnasium and fitness area. . .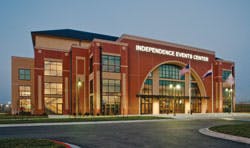 Home to a Central Hockey League franchise and anticipated to host more than 100 events and 500,000 visitors annually, the $49.9 million Independence (Mo.) Events Center opened late last year. Flanked by 2,000 paved and lit parking spaces and featuring seating for as many as 8,000 spectators (including 5,800 fixed seats), the 182,300-square-foot facility is owned by the city, which expects to use it for a wide range of events, from professional sports contests to concerts to high school graduation ceremonies. The facility also includes a community ice center to support a variety of local programs. Unlike larger arenas, the center's lower bowl has only 16 rows - with many of the 29 suites and 275 club seats starting at the 17th row - bringing spectators as close as possible to the action below. Red brick and limestone-colored, precast concrete panels were used on the exterior to reflect the traditional character of the local architecture.