St. Joseph's College in Brooklyn, N.Y., began work on a new athletic facility last month.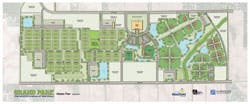 St. Joseph's College in Brooklyn, N.Y., began work on a new athletic facility last month. Designed by Bentel & Bentel Architects of Locust Valley, N.Y., the $12.5 million project will include a basketball arena, a fitness center with studios for cardio and dance, and offices for the athletic department. To maximize use of limited space, the 30,000-square-foot facility will also include underground parking and a rooftop terrace. Expected to be complete by June 2013, the project is seeking LEED certification.
Construction of the Grand Park Sports Campus is under way in Westfield, Ind. The 350-acre development will include more than two dozen softball and baseball diamonds and 30 fields for soccer, lacrosse, football and rugby, as well as an indoor athletic facility. The $45 million campus will be home to several area youth leagues but also host tournaments the city hopes will draw athletes from all over the country.
Renovations began in November on Washington State University's Martin Stadium. The privately funded project will add a larger press box and expand the number of premium boxes and luxury seats. The $80 million required for construction will come from the sale of bonds, as well as increased revenue from the improved seating. If approved, a second project will add a football operations center to the west end zone.
After more than eight years of delays, Southern University in Baton Rouge, La., is scheduled to break ground on its Intramural Athletic Complex this month. Designed by M3A Architecture of Jackson, Miss., which also handled the expansion of the school's A.W. Mumford Stadium, the $6.5 million facility will house basketball courts, cardio and weightlifting rooms, as well as lounge areas and outdoor patios.
First Pitch
Baylor University is seeking approval from regents of plans for an on-campus stadium. The $200 million project will be funded by private donations, fundraising efforts, loans and ticket revenue. The university is working with Populous on the project's design. . .
Plans have been announced for a 100,000-square-foot sports facility in Memphis, Tenn. Penny Hardaway's FastBreak Courts, named after the former University of Memphis and NBA star, will include a sports rehabilitation center in addition to six regulation basketball courts and one championship court. The courts will be used for other sports, as well. . .
In November, Penn State's Board of Trustees approved the selection of Cannon Design of Baltimore to design an addition to its McCoy Natatorium and a new indoor tennis center. The addition to the aquatics center will include an NCAA-certified pool and indoor diving well, opening up space at the existing pools for more student recreation, water aerobics and club water sports. The new tennis center will provide opportunities for both recreational tennis and the hosting of tournaments. . .
Voters in Broussard, La., approved a half-cent sales tax increase that will fund a sports and recreation complex. Expected to cost anywhere between $6 million and $20 million and encompass 150 to 200 acres, the project would include a general recreation area including playgrounds, picnic areas and pavilions; a special area for festivals; a sports area offering fields for baseball, softball, soccer and football; and tennis and basketball courts.
Grand Openings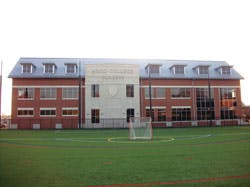 The Hood College men's and women's basketball teams tipped off their 2011-12 seasons in the newly completed Hood Athletic Center. Designed by Zavos Architecture + Design of Frederick, Md., the 41,000-square-foot facility's BB&T Arena seats 1,600 and will also be home to the school's volleyball team. The center includes a two-story, 5,000-square-foot fitness center, an athletic training room, a concessions area and offices (above). . .
The University of Texas at Austin celebrated the completed renovation of Clark Field with a dedication ceremony in November. The $4 million project involved adding a synthetic turf field, a refurbished track and new exercise stations for everyday use by students. Renamed the Caven Lacrosse and Sports Center at Clark Field after one of the project's primary contributors, the new field will be better able to accommodate the school's two lacrosse clubs as well as other club and intramural sports. . .
Marking Cleveland's first new municipal recreation center in 14 years, the Collinwood Recreation Center opened in November. The $11 million facility houses the city's first indoor water park as well as a basketball court, indoor track, senior center, and aerobics and fitness rooms. Designed by City Architecture of Cleveland, the center is LEED certified. . .
Springfield, Ill., celebrated the opening of the $18 million Gus and Flora Kerasotes YMCA in November. The 60,000-square-foot facility includes therapy and competition pools, a dry sauna, a steam room and a gymnasium. Bond Wolfe Architects of St. Louis included large, circular windows in the design to provide light to both the pool and gym areas. In addition to a fitness center, group exercise room, childcare area and community center, the new facility also houses Memorial Health System's SportsCare clinic, which offers sports enhancement training. . .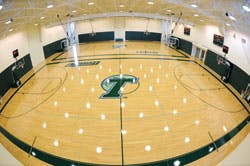 Tulane University's new basketball and volleyball practice facility was dedicated in November and will be completed this month (below). The 43,000-square-foot Hertz Center includes two regulation courts, weight and athletic training areas, hydrotherapy facilities, conference rooms, coaches' offices and a video room. The volleyball program and men's and women's basketball programs each have their own locker room, as well as bathroom amenities and lounge areas. . .
The completion of its new Regole Field House this month will ease demand on the gymnasium at Marmion Academy in Aurora, Ill. Designed by Cordogan, Clark & Associates Inc. of Aurora, the 36,000-square-foot facility houses three basketball courts, three tennis courts, a track, high jump and long jump areas and batting cages.