Utah State University has begun construction on a new 21,000-square-foot strength and conditioning center to ease demand on its existing 5,800-square-foot facility.
Utah State University has begun construction of a new 21,000-square-foot strength and conditioning center to ease demand on its existing 5,800-square-foot facility. When completed in April 2013, the new facility will offer areas for weight training, cardio, and speed and agility training for nearly 400 athletes in the university's 16 sports programs. The majority of funding for the $6.4 million facility was provided by a single gift from an anonymous donor.
The University of Louisville is constructing a new student recreation center (pictured) on its Belknap campus. Designed by Cannon Design of St. Louis in conjunction with Lexington, Ky.-based Omni Architects, the $37.5 million project will include an area for exercise and weight training, an aerobics studio, a jogging track, six basketball courts, an indoor court for soccer and floor hockey, a synthetic turf field, classrooms and a gaming area. The 128,000-square-foot facility will be the first building on campus to be heated and cooled with geothermal energy and is expected to achieve LEED Gold certification.
Work has begun on Impact Point, a 7,900-square-foot facility for arts and athletics in Springboro, Ohio. The $1 million facility will house basketball, volleyball and soccer, as well as a climbing wall and spaces for the arts and other activities. On weekdays, the facility will serve the needs of the nearby Academy at Minds in Motion and Minds in Motion Early Learning School, opening for public use and team rental in the evenings, on weekends and during summer.
Hilo High School in Hawaii has finally begun work on a new gymnasium to replace the existing 80-year-old structure. The facility, which will take about 13 months to construct, will offer seating for 1,300 and finally allow the school to host athletic competitions and serve as an emergency shelter during storms. The first floor of the 23,000-square-foot building will also include boys' and girls' locker rooms, restrooms, storage and a first aid room. A second story will include wrestling and weight training rooms. Kober/Hanssen/Mitchell Architects Inc. of Honolulu is providing design and consulting services.
First Pitch
A consulting firm has narrowed the list of potential sites for a proposed minor league ballpark in Wilmington, N.C., to three possibilities. The $35 million ballpark would be owned by the Atlanta Braves and managed by Mandalay Baseball Properties. Before construction can begin, the city must approve a financing plan... A York, N.H., high school and middle school tennis coach is seeking a donation of town-owned land to build a nonprofit swim and tennis club. Construction of the $3.5 million facility would be funded by private donations and charter membership fees, and once construction is complete, the facility would be turned over to the town's parks and recreation department for upkeep. The project will be put out for public opinion and input before a final plan is sent to the planning board for approval... Rutgers University has selected Michael Graves & Associates of Princeton to design renovations of the Louis Brown Athletic Center, home of the men's and women's basketball teams. The renovations will include a state-of-the-art practice facility, new areas for strength and conditioning, training and equipment, system upgrades, and other amenities to improve the fan experience... Portland State University has announced plans to expand and renovate the Stott Center, transforming it into a new basketball and volleyball arena to be renamed Viking Pavilion. The proposed facility would seat 4,700, more than triple the current capacity, as well as feature other updated amenities. The university is seeking $22 million in private investments before a final proposal is made.
Grand Openings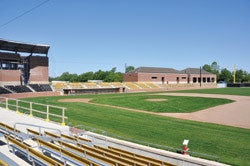 The Sports Complex opened last month in Ocean Springs, Miss., just in time to host a 40-team girls' softball tournament. The $7 million complex is spread over 26 acres and includes four natural grass fields for football and two for soccer, as well as five baseball and four softball diamonds. The complex also features 11 LED scoreboards and energy-efficient field lighting. Two concessions pavilions complement an entrance pavilion housing a conference room, screened porches and storage. Baton Rouge-based landscape architect Joseph Furr Design Studio is leading the work, with Holden Architects, also of Baton Rouge, assisting in design elements... Though rain delays prevented the Purdue University baseball team from starting this season in its new home, construction of Alexander Field (pictured) is finally complete. The new brick masonry stadium offers seating for 1,500, a new press box and booths for radio and television, television-quality field lights, a clubhouse with locker rooms and a lounge, a heated training facility and heated dugouts for both home and visiting teams. The $21 million project also includes upgrades to the nearby Varsity Soccer Complex... The Fort Bliss Outdoor Recreation Program has opened two new recreation areas. The Southwest Adventure Equipment Outpost will offer such services as camping equipment and laser-tag equipment rentals and bike repair to active-duty military personnel and their families, as well as military retirees. The Soldier Activities Center includes a 25-foot-tall climbing wall, a ropes course, an outdoor recreation pool, and indoor spaces for volleyball, electronic gaming, music spaces and more... The Skyline Nature Park is now open in Tooele City, Utah. The 12.4-acre park includes picnic, playground and fitness areas, and natural areas and trails for walking, jogging and biking. Not only is it Tooele City's first nature park and the first park on the city's northeast side, the new park is also the first in the city to feature an electronic playground game system. Allred Soffe Wilkinson and Nichols Inc. of Salt Lake City prepared the master plan for the $1.3 million park.