Construction is expected to begin this month on a renovation and expansion of the Bielenberg Sports Center in Woodbury, Minn. ...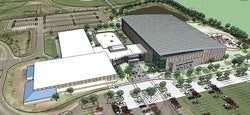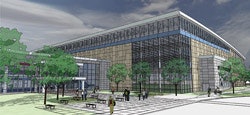 Construction is expected to begin this month on a renovation and expansion of the Bielenberg Sports Center (pictured) in Woodbury, Minn. The $21.8 million expansion will nearly double the size of the facility over the course of the next year, removing the center's distinctive but worn air-supported dome and replacing it with a metal arched roof, expanding the field house to accommodate a full soccer field, and constructing an outdoor skating rink, a food-service area and additional storage. The design from St. Paul-based Pope Architects also calls for the construction of a geothermal heating and cooling system and upgrades to various other existing elements of the center.
The City of Lawrence Parks and Recreation Department and the University of Kansas have teamed up to build Rock Chalk Park. Construction of a $39 million athletics complex funded by the university, which includes a track and field area, soccer and softball stadiums, is currently under way. The city's portion, a $25 million recreation center featuring tennis courts, a walking track, an indoor athletic field and a fitness and wellness center, is expected to break ground this month. The project was designed by Gould Evans Associates LC of Kansas City in partnership with Paul Werner Architects of Lawrence.
Eastern Oregon University begins work this spring on renovations to its Quinn Coliseum. The $10.4 million project will increase openness and transparency by creating a new entryway and adding booster seating and additional windows. The project, led by SERA Architects of Portland, follows up renovations to the university's Hoke Union.
The Clark County Family YMCA in Vancouver, Wash., breaks ground on an $8.2 million expansion and renovation project this month. The first phase will include an enclosed all-weather play area. A second phase to begin in May or June will include a six-lane lap pool. The project, led by Vancouver-based LSW Architects, will also construct a second-story running track, install wood gymnasium floors and improve the locker rooms.
Construction of a new football stadium is under way at the University of Houston. Set to open in August 2014, the stadium will seat 40,000 and feature a metal exterior skin with an opening that frames the Houston skyline. The $105 million project will feature a synthetic turf field, 26 suites and a 12,400-square-foot club, as well as additional premium seating options and party decks. At the east end of the stadium, the Bert F. Winston Band and Performance Center will contain band halls, classroom spaces and ticket offices. The university worked with PageSoutherlandPage of Houston and DLR Group of Kansas City on the project's design.
First Pitch
The Anchorage (Alaska) Parks and Recreation Commission is pushing to build a new skate park aimed at beginning skaters and bikers at its Sitka Street Park. The park will be based on a simple bowl-style concept with seating for parents and spectators. The Anchorage Park Foundation has raised $60,000 for the project, and the city is in the process of selecting a builder to design and install the park... Jacksonville University has announced a campaign to raise $85 million by 2016 for the construction of a football stadium, a training facility for basketball and volleyball, an athletics center and a softball batting facility. Money has been set aside for future land purchases, but no site has been selected... Plans for an upgrade to the Miami Dolphins' Sun Life Stadium will be put to a vote next month. The team is seeking tax money to help cover upgrades estimated at $400 million, including additional seating, improved amenities and a canopy roof... The Township of Normal, Ill., is seeking bids to renovate an unused fitness center on the Illinois State University campus. The town hopes to use the space for its growing senior population, as well as health and wellness programs... A coalition of youth sports groups is hoping to turn New York's Pier 40 in Hudson River Park into a sports park. The plan would rely on the construction of two residential towers near the pier to create a revenue stream to fund redevelopment and repairs to the three-story pier. The plan, developed with WXY Architecture of New York, would include 10 acres of open space, an elevated track and 160,000 square feet of recreational space.
Grand Openings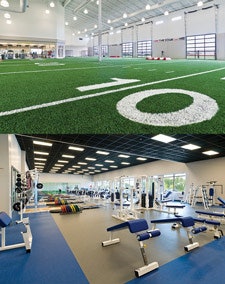 (Photos Courtesy of McShane Healthcare Solutions)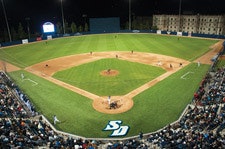 (photo courtesy of University of San Diego Athletics)
A new sports medicine and athletic facility (right) is now open at the Houston Amateur Sports Park. Competitive Edge Sports Performance makes up one part of the 35,000-square-foot facility and offers sport-specific training regimens and classes. The Methodist Center for Sports Medicine provides care to the Houston Texans, Astros and Dynamo, the Rice University athletic department and the Houston Rodeo. The Dynamo MLS squad also has a new permanent training center located within the facility. Houston-based Seeberger Architecture led the project's design, while McShane Healthcare Solutions of Rosemont, Ill., provided development services... The University of San Diego's Fowler Park (lower right) has reopened. Populous of Kansas City led design for the $13.8 million stadium renovation, which included the creation of a 16th century Spanish Renaissance-style entry plaza, an updated playing field and tunnels, new dugouts and the addition of a 6,800-square-foot clubhouse... Construction of a new $64 million stadium for the Birmingham Barons minor league baseball team wraps up this month. The 8,500-seat Regions Field (not to be confused with the team's former home at Regions Park in Hoover, Ala.) features a steel-and-brick facade and is oriented to showcase the Birmingham skyline beyond center field. HKS Sports & Entertainment Group of Dallas worked with Hoskins Architecture and GA Studio of Birmingham on the project.