After more than 10 years of planning, the University of Utah has broken ground on the George S. Eccles Student Life Center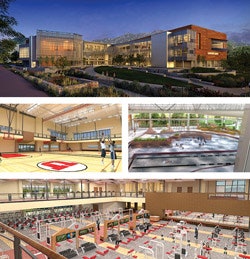 After more than 10 years of planning, the University of Utah has broken ground on the George S. Eccles Student Life Center (right). The $50.4 million project will construct a 190,000-square-foot, state-of-the-art recreation facility offering fitness training, intramural sports and outdoor recreation. In addition to three pools, five athletic courts, a climbing wall and spaces for cardio, weight training and group fitness, the center will include study areas and a café. Designed by MHTN Architects of Salt Lake City and St. Louis, Mo.-based Hastings+Chivetta Architects Inc., the center is expected to be complete by December 2014.
The New York Giants, Hackensack University Medical Center, and Fitness and Wellness of Hackensack LLC have teamed up to construct a fitness, wellness and sports performance center in Maywood, N.J. The center, HackensackUMC Fitness & Wellness Powered by the Giants, will span 112,000 square feet and include a fitness floor, three salt-water pools, spacious group exercise studios, a sports performance center, a demonstration cooking studio and more. The facility's programming calls for each member to receive a quarterly health risk and fitness assessment and personalized training programs.
The University of Oklahoma has broken ground on a 24,000-square-foot rowing facility. The $6.5 million project will include a rowing-simulation tank, as well as a workout area with locker and meeting rooms. The facility will be used in conjunction with a boathouse currently under construction that will offer space for workouts, sports medicine, hydrotherapy, a team locker room, offices and meeting spaces.
Fargo-Moorhead Curling Club has broken ground on a $2.5 million curling facility in Fargo, N.D. The new facility replaces a 1967 rink in need of extensive repair. Built adjacent to the Southwest Youth Ice Arena, the new rink will also expand the number of curling lanes from four to six, with two handicap-accessible sheets. Construction is expected to be complete in time for the mid-November U.S. Olympic Team Trials.
Construction is under way on a new Basketball Development Center at the University of Connecticut. In addition to practice courts, the $35 million facility will include strength training, sports medicine, hydrotherapy and dining services for student-athletes. Designed by Kansas City-based Populous, the facility will span 78,000 square feet and be one of the largest college basketball training facilities in the country.
First Pitch
The Purdue University Board of Trustees has approved construction of a new 1,000-seat softball stadium featuring heated dugouts and a heated training facility. Representing the last piece of the Mackey Complex master plan approved in May 2007, the $13 million project is expected to be complete in time for the 2015 season. The athletic department is currently soliciting bids for the project... A deal between the Town of Lewiston, N.Y., and the Lewiston-Porter School District will see the construction of an $8 million recreation center on the high school campus. The center will include a multipurpose indoor athletic field and a gymnasium that will serve the needs of the school district's sports teams for games and practices, as well as recreational leagues. Additional space will be set aside for possible use as a senior center. The project is expected to break ground later this year and take 15 months to complete.
Grand Openings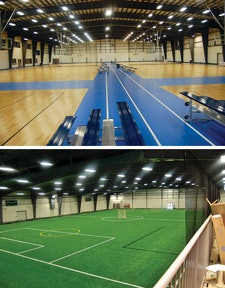 (Photos Courtesy of University Sports Complex at Starland)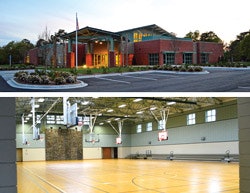 (Photos courtesy of Waccamaw Recreation Department)
The Kingsport (Tenn.) Aquatic Center celebrated its grand opening last month. The 50,000-square-foot facility features a 50-meter lap pool, a 25-yard warm-water pool and a leisure pool, while an outdoor component includes two recreational pools with slides, a lazy river, a climbing wall and a beach volleyball court. Complementing the aquatic center is the new YMCA Wellmont Center, a two-story, 35,000-square-foot facility that offers fitness areas, a gymnasium, a multi-level indoor playground, an outdoor playground and a multipurpose room... A historic amusement park was renovated to make room for the new University Sports Complex at Starland in Hanover, Mass. The $16 million project (above), designed by CBT Architects of Boston, features an indoor synthetic turf field and eight basketball courts that can be converted for volleyball or futsal, as well as a fitness center and an indoor track. The 165,000-square-foot facility will also house locker rooms, classrooms, multipurpose spaces, a laser tag room and an arcade. Additionally, the project will keep and update the amusement park's go-carts, bumper cars, batting cages, climbing wall and mini-golf course... The Waccamaw (S.C.) Regional Recreation Center (below) is now open. The first of three new regional recreation centers planned for Georgetown County, the center features a 14,500-square-foot gymnasium with multipurpose flooring for basketball, pickleball, four square and other activities, as well as public events. The $4.4 million facility also offers a rock climbing wall, an indoor track, locker rooms and a fitness area... Hillsboro Ballpark is scheduled to open this month in Hillsboro, Ore. The 3,500-seat stadium will be home to the minor league Hillsboro Hops and also be used for soccer and lacrosse. Designed by SRG Partnership of Seattle, the $15.2 million project will feature a grassy berm for additional seating.