New York Yankees outfielder Curtis Granderson already has a reputation as one of the nicest guys in baseball.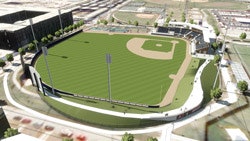 New York Yankees outfielder Curtis Granderson already has a reputation as one of the nicest guys in baseball. His Grand Kids Foundation has awarded nearly $80,000 to programs that focus on improving the educational experience of youths nationwide and re-establishing baseball opportunities for inner-city athletes - causes that helped earn Granderson the 2009 Marvin Miller Man of the Year Award, named after the longtime Major League Baseball Players' Association president and given to "the player in either league whose on-field performance and contributions to his community inspire others to higher levels of achievement."
Now the three-time Major League All-Star's alma mater, the University of Illinois at Chicago, will directly benefit from his generosity through a $5 million donation toward the new $7 million Curtis Granderson Stadium, home to UIC Flames baseball. In keeping with Granderson's commitment to helping disadvantaged kids, it also will host numerous youth games throughout the spring and summer, giving kids the opportunity to play at a first-class facility. Construction will begin this fall and be completed in time for the Flames' 2015 Opening Day.
Meanwhile, halfway across the country in a much smaller city in New Jersey, work continues on another baseball stadium. The home of the Millville High School Thunderbolts might not be as, well, "grand" as UIC's facility, but the much-needed upgrades come from the same well of gratitude and philanthropy.
Mike Trout, a 2009 Millville graduate and current Los Angeles Angels of Anaheim outfielder, donated his $20,000 Rookie of the Year bonus to refurbish the school's baseball facilities. BodyArmor SuperDrink, with whom Trout has a sponsorship deal, kicked in another $10,000 in his name.
"We're tickled," says Millville athletic director Dave LaGamba. "We're just really happy to see Mike succeed. We never thought about a donation."
'GRAND' PLANS
Athletic directors might want to start thinking more about donations, because pro athletes are giving back to their alma maters and other important organizations in their lives.
Consider the list of amenities that Curtis Granderson Stadium will boast: an estimated 1,200 chair-back seats and grassy areas for additional spectator seating; a level of disability seating; an open-air, brick-and-stone facade; and enhanced press amenities. Plus, two existing fields are being resurfaced, which will allow several games to be played simultaneously.
"We're expecting between 6,000 and 7,000 kids to be playing at our facilities every season," says Flames coach Mike Dee. "It's our goal that every team in the Chicago Public Schools system play a game here. We'll also offer coaching and officiating clinics."
MLB's Reviving Baseball in Inner Cities (RBI) and Urban Youth Academy programs are the chief partners on this project. Since 1989, RBI has established more than 300 programs in more than 200 cities around the world, giving 200,000 disadvantaged male and female participants the chance to play baseball and softball each year. MLB and its 30 clubs have designated more than $30 million to RBI, and Dee works with RBI through UIC's relationships with both the Chicago White Sox and Chicago Cubs.
But just an everyday conversation is all it took to get the ball rolling on UIC's stadium, Dee says.
"Curtis lives a block away [from UIC] in the offseason, and he comes here to work out," he explains. "We were talking about how he had wanted to start a baseball program in Detroit through Grand Kids, but then he got traded to New York. I was already working with RBI. It took off from there."
"I started playing baseball when I was six years old, and friendships I had at that point I still have today," Granderson told CSNChicago.com following a press conference held in his hometown Chicago in February. "You learn teamwork, leadership, discipline and also how to fail and succeed - things you don't realize at the time how beneficial they are going to be moving forward. You're going to have to set goals and work hard to accomplish them. That's what baseball has done for me, and hopefully that's what baseball will do for the youth in Chicago."
"It's really a perfect pairing," Dee adds. "Baseball is very important to Curtis, obviously, but education is as well. When he was growing up, it was never 'if you go to college,' it was 'when you go to college.' So, along with giving kids the structure and discipline baseball can bring, he's also getting kids who might not otherwise be on a college campus exposed to higher education."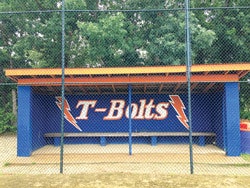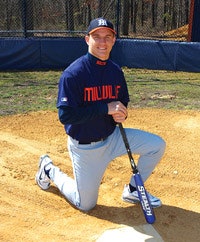 (Photos Courtesy of Millville High School)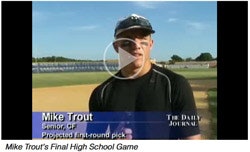 THEY LIKE MIKE
So far, the $30,000 donation from Trout and BodyArmor SuperDrink has netted the Millville Thunderbolts baseball team new uniforms, new infield sod, a new batting cage down the left-field line, repainted bleachers and a repainted press box, repaired dugouts and a rebuilt pitcher's mound and home plate. The school board has rechristened the facility Mike Trout Field.
"I know it's going to be humbling," Trout told The Philadelphia Inquirer in March. "Driving by and seeing my name up there, it's going to be a good feeling. My dad played there. All my buddies played there. The coaches who brought me up are still there. I want to be able to give back, to have the kids there be able to play on the best field."
But when Trout proposed his donation, school officials were hesitant to commit. "We were thrilled," LaGamba says. "But any time you're dealing with an educational institution, you're dealing with a bureaucracy. The school board was concerned with what kind of precedent might be set, what BodyArmor might want in return. We needed to think differently and accept this wonderful gift that an alum was offering. Everyone in Millville loves Mike, so people were willing to have the meetings, work through any red tape, to allow this donation to go through."
Fields (and Courts and Tracks) of Dreams
Curtis Granderson and Mike Trout aren't the only pros giving back. Athletes from virtually every professional sport have donated money, time, and talent to their alma maters and other organizations that helped shape their personal and professional lives.
• Oakland A's outfielder and Petaluma, Calif., native Jonny Gomes covered the cost - approximately $2,500 per person - for Petaluma parents wishing to travel to Williamsport, Pa. to watch their kids compete in the 2012 Little League Baseball World Series. "I think it's part of being a professional athlete to use your star status, if you will, or use the media outlets that you're granted, to give back," Gomes said at the time.
• The track team at Grant High School in Portland, Ore., couldn't even host home meets in 2011 after its facilities were deemed unsafe for competition, and the school's soccer team was forced to play its "home" games at another school. Enter Detroit Lions defensive tackle Ndamukong Suh, better known for literally stomping over opponents than for random acts of kindness. The 2005 Grant graduate teamed with Nike, Portland Public Schools and Portland Parks & Recreation to donate $250,000 for a new field and synthetic track at the school.
• Former Major League pitcher Billy Wagner played for the Houston Astros, New York Mets, Philadelphia Phillies, Boston Red Sox and Atlanta Braves during a 15-year career. But now his favorite team is no doubt the Miller School of Albemarle Mavericks in Charlottesville, Va., where Wagner coaches boy's baseball. His son, William, plays second base on the private-school team. Wagner also continues to be the face of Second Chance Learning Center, which since 2005 has given $85,000 in college scholarships to needy students from the southwestern Virginia area in which he was raised.
• Eric Butorac, a 2003 graduate of Gustavus Adolphus College, has won 10 Association of Tennis Professionals World Tour doubles titles and played alongside Roger Federer and Rafael Nadal. He now regularly returns to help coach Gustavus teams and serve as a mentor to the players, and he's also a driving force behind Eric Butorac's Minnesota Tennis Challenge, with the proceeds supporting Minnesota youth.
• Former MLB pitcher Matt Clement, who struck out more than 1,000 batters in a nine-season career, has traded one ball for another. Clement coaches basketball at his alma mater, Butler (Pa.) Area High School. He played prep basketball, but his 93-mph fastball altered his career path and landed him in pro baseball. "I've always wanted to coach basketball," Clement told local reporters in April.
• A $75 pay-to-play fee at every middle school and high school in Saginaw, Mich., during the 2012-13 academic year would have put athletic participation out of reach for many students' families - including that of Pittsburgh Steelers linebacker LaMarr Woodley when he was growing up. The Saginaw High alum and former Michigan Wolverine eliminated that scenario by donating $60,000 to cover the fees of every student-athlete in the district.
• As the School District of Philadelphia faces a $300 million shortfall and the possibility of cutting high school sports (not to mention counselors and secretaries), one administrator is calling on the city's major league sports teams and players to step up. Science Leadership Academy principal Chris Lehmann has put together a Change.org petition calling on the Eagles, Flyers, Phillies and Sixers to help fund high school athletics. As of mid-June, the petition had garnered more than 3,000 signatures.
• Such calls to action can work; just ask the University of Utah. Since launching its seven-year "Invest in Excellence" campaign in 2010 to benefit athletics, the school has raised approximately $51 million. A number of former Utes now in the professional ranks have contributed to the campaign, including Carolina Panther Jordan Gross, Golden State Warrior Andrew Bogut and Denver Nugget Andre Miller.
- L.J.G.